100 Greatest Drivers' Cars Countdown 100-91: Countdown 100-91
From Ferrari to Ford to Lotus, from 250 GTO to Focus RS to 340R, we count down the 100 most inspiring cars to drive from the last 50 years. Will yours be on the list?
100 TOYOTA MR2 MK1Go on, let your imagination rip. it's a baby Ferrari 328. Well, no it isn't. But if you like the feel of a well-sorted mid-engined chassis and the sound of an urgent multi-cam engine less than a foot from your head, the first generation MR2 is just the ticket. It's zippy, economical, comfortable, fairly refined and loves to go sideways in the wet. What's not to like?
Two little-known facts about the MR2. The chassis development team included racing god Dan Gurney. And in France they dropped the '2' because MR2 sounded like 'merde'.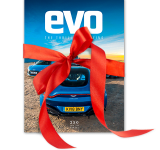 Subscribe to evo magazine
If you're passionate about the world's greatest performance cars, experience the thrill of driving with evo magazine. Try your first 5 issues for £5.
Layout: Mid-engine, rear-drive Engine: In-line 4-cyl, 1587cc Power: 124bhp Top speed: 121mph 0-60mph: 8.9sec Years: 1984 -89
99 FORD PUMA 1.7Forget the hairdresser associations and Fiesta underpinnings (actually a big plus). Plain fact is, the Puma is one of the world's most underrated drivers' cars, delivering seat-of-the-pants finesse and drivetrain sweetness that are usually the preserve of far more exotic machinery. If you can't have fun on a twisty road in this car see a doctor. The only Ford coupe that ever really nailed it.
Layout: Front-engine, front-drive Engine: In-line 4-cyl, 1679cc Power: 123bhp Top speed: 122mph 0-60: 8.6sec Years: 1997-02
98 VOLKSWAGEN CORRADO VR6By bunging a massaged version of the wonderful 2.8 V6 from the Golf VR6 into the prettier, lighter Corrado coupe, VW created an instant, Porsche 944-eating, classic. There was something about the shape and size, a leanness that hinted at keen responses and exceptional performance. It was no illusion. The Corrado flew to 60mph in 6.4sec and handled more engagingly than many rear-drive rivals.
Layout: Front-engine, front-drive Engine: V6, 2861cc Power: 190bhp Top speed: 143mph 0-60: 6.2sec Years: 1992-96
97 FORD SIERRA COSWORTHFlying the flag for all Sierra Cossies, the four-door four-wheel-drive Sapphire feels a bit crude today – the interior was cheap and plasticky even in the early '90s despite leather Recaros – but an unmolested one still has a certain cool, and more to the point delivers an unadulterated hit of honest turbocharged thrust combined with secure but totally engaging  handling. A true working class hero.
Layout: Front-engine, 4wd Engine: In-line 4-cyl, 1993cc, turbo Power: 220bhp Top speed: 144mph 0-60: 6.6sec Years: 1990-93
96 TVR CERBERA SPEED SIXLess raw and savage than the earlier Cerberas, the Speed Six is nevertheless constructed from the right stuff and, so long as you don't take too many liberties, will happily blow any junior-to-middle-ranking Ferrari into the weeds. Question is, just how brave are you feeling? Fast and uncompromisingly furious, prepare for the oversteer and it might just be the thrill of your life.Layout: Front-engine, rear-drive Engine: In-line 6-cyl, 3966cc Power: 350bhp Top speed: 170mph 0-60: 5.0sec Years: 1998-04
95 JAGUAR XKRThe XKR presents a compelling argument for being the best pound-for-pound GT in the real world. Its combination of genuine luxury, continent-traversing speed, whispering noise levels and pile-driver punch between 100mph and 150mph is a bit special. And its chassis always manages to strike an uncanny balance between precision and pliancy that makes the miles melt engagingly away.
Layout: Front-engine, rear-drive Engine: V8, 5000cc Power: 503bhp Top speed: 155mph 0-60: 4.6sec Years: 2009-
94 BMW E60 M5You can treat the M5 as a luxury saloon or you can run down an F430. It's not just the 500bhp V10 but the way any type of tarmac is dispatched without a barrage of bumps and tyre roar. And when the need arises, it can call on reserves of grip that seem surreal in such a bulky car. While it never feels truly nimble, neither do you ever get the impression it won't rise to the occasion. 
Layout: Front-engine, rear-drive Engine: V10, 4999cc Power: 500bhp Top speed: 155mph 0-60: 4.7sec Years: 2005-
93 FERRARI F355 F1 BERLINETTAAn urgently needed return to form after the woeful 348, the 355 introduced five valves per cylinder to Ferrari's stalwart V8, not to mention dry sump lubrication, titanium conrods and six-speed gearbox. It is also significant for being the first Ferrari to be offered with the F1-derived paddle controlled electronic shift system. Arguably, never has such a blend of Pininfarina beauty, scintillating V8 music and exquisite handling been poured into an entry-level Ferrari. Layout: Mid-engine, rear-drive Engine: V8, 3496cc Power: 375bhp Top speed: 183mph 0-60: 4.7sec Years: 1997-99 92 ASTON MARTIN VANQUISH SIf the regular Vanquish had a problem it was that its V12 engine didn't have the shove – huge and cleanly delivered as it was – to match the scalp-tingling magnificence of the sound it made. The more muscular and tautly-suspended 'S' takes care of that, the 60bhp hike in output rendering the momentum of the big car's mass during a sustained banzai charge less obvious. The beefier brakes that come with the optional Sports Dynamic Pack are a must-have, too. A truly convincing Aston supercar.Layout: Front-engine, rear-drive Engine: V12, 5935cc Power: 520bhp Top speed: 200mph 0-60: 4.9sec Years: 2005-07 91 BUGATTI EB110The real point about the conceptual forerunner of the Veyron wasn't its speed (fast but not that fast) but its outstanding usability. Not until the Honda NSX was there a supercar so user-friendly and exploitable. A contemporary of the XJ220, it doesn't go or corner as hard, but it ends up being faster point-to-point because its performance is so much more useable. Extraordinary in every way.
Layout: Mid-engine, 4wd Engine: V12, 3500cc, quad-turbo Power: 552bhp Top speed: 212mph 0-60: 3.4sec Years: 1991-95
Top 10 Greatest Drivers Cars 100 Greatest Drivers Cars 20-11 100 Greatest Drivers Cars 30-21 100 Greatest Drivers Cars 40-31