Track day insurance – everything you need to know
Taking your car on track? Want it to still be insured?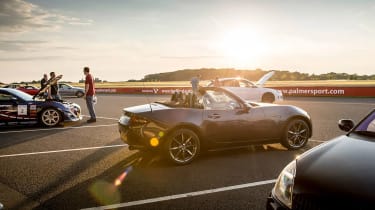 You think you'll be sensible, you'll take it easy, you won't push your car too hard – you absolutely don't need trackday insurance. But then you find yourself with an empty track ahead of you, a rapidly gaining Renault Sport Clio behind, and all the promises you made in the pitlane completely disappear. Instead you go chasing other cars, ones with twice the horsepower of yours, going faster than you'd intended and working your car far harder than you imagined you would.
To stay at a moderate pace on a trackday takes the sort of willpower that few mere mortals possess. And although you might be a very safe driver, accidents do happen, so some sort of insurance is worthwhile. If you're lapping your pride and joy, which the car you use on track is very likely to be, it pays to take precautions, because your regular car insurance is extremely unlikely to cover you on track.
Trackday insurance, however, isn't like your everyday on-road cover, and it's not immediately obvious what the differences or the benefits are for pure track cover. So we spoke to Adrian Flux, a typical trackday insurer, to find out why you might need track insurance and what it covers you for.
> evo Trackdays 2022: dates, tickets, booking info
What are the main differences between regular on-road insurance and trackday insurance?
'The main difference between the two is that trackday insurance tends to exclude third-party liability. For the policyholder, this means the trackday vehicle is insured only for accidental damage, fire and theft losses.' [In other words, your car is covered for collision damage regardless of whether the accident was caused by you or another driver, but you are not covered for any damage you cause to another car. That said, it's a generally accepted rule at trackdays that each driver is responsible for damage to their own car, whoever caused it.]
What criteria can reduce the cost of trackday insurance? Does experience, for instance, reduce cost?
'Yes, previous trackday experience can reduce the price of the insurance. Also, agreeing to a voluntary excess may bring down the cost. The policyholder agrees to a voluntary excess figure when taking out the insurance, and it's added to the compulsory excess in the event of a claim. The higher the voluntary excess, the lower the insurance premium is likely to be. But the policyholder must choose an amount that's affordable for them. 
'It is worthwhile noting that policies can be track-specific, and cover for some locations can be more expensive than others. Generally speaking, tracks with larger run-off areas are likely to result in cheaper trackday insurance.'
Do cars with modifications to tailor them to trackdays help reduce the cost, or as with road-car insurance, does it generally increase the premium?
'At Adrian Flux, modifications made to cars used on trackdays do not affect the price of trackday insurance premiums. As a specialist insurer and motorsport enthusiasts ourselves, we understand that many vehicles used on trackdays are likely to be modified in some way, shape or form.'
Trackday insurance can be bought for individual events or for an entire season. How many trackdays would you need to attend for it to be more cost effective to go for the latter option?
'This is a difficult question to give a straightforward answer to. As an insurance broker, we use a number of different insurers to find appropriate cover at the right price for our customers. We can't say a policyholder needs to complete X number of trackdays to get cheaper trackday insurance. This is because it depends on a variety of other factors, including the individual risk, and the different insurers we use have different views on this.'
Does trackday insurance differ from motorsport insurance, and how?
'Yes, there is a difference between the two. Motorsport insurance covers policyholders participating in a competitive activity, whereas those with trackday cover are not covered for competition. Trackday insurance therefore tends to be cheaper. Adrian Flux also offers trackday insurance for cars and motorbikes that covers hill climbs, drag strips and even events organised by clubs, magazines and manufacturers.'
Does the insurance include recovery of a damaged vehicle?
'If the vehicle is damaged during a trackday, the trackday organiser would arrange for the vehicle to be removed from the circuit itself. The insurer would then collect the vehicle if it was undrivable, or in a non-roadworthy condition after the accident.'
Although most circuits, proving grounds, sprint courses and hill climbs will be covered by the majority of UK-based trackday insurers, European tracks may not be included, so check your policy before you head to Spa or Paul Ricard. Public Touristenfahrten days at the Nürburgring are even less likely to be covered by either road or trackday insurance.
How expensive is trackday insurance?
These example quotes are based on the assumption of a 40-year-old male, living in Bedfordshire, with no convictions and no accidents. Cover is for a single event (at Bedford Autodrome).
2010 Porsche 911 GT3 (997.2), approximate value £110,000
£730 with £5000 excess.
2010 Renault Sport Clio 200 Cup, approximate value £7500​
£89* with £1000 excess. 
Find more on track cars, track days and track driving through the links below...