If you want to get serious about trackdays, you need the right car. Forget powerful, expensive and rare (particularly if you're on a learning curve), and buy something that can be moulded to the task and that will have endurance: the right tool for the job.
As confirmed in the following advice, it's the brakes that will be the weak point on most road cars, quickly – and expensively – stopping play. Regular road tyres will also soon overheat, damaging the tread; a stickier tyre will not only perform better but last far longer.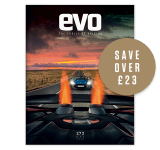 Subscribe to evo magazine
Subscribe today to have every issue of evo delivered straight to you. You'll SAVE 39% on the shop price, and get evo for its original cover price for a whole year!
> Book your next evo track day here
Upgrading the suspension is likely to be on your list, too, both to make the most of the tyres and also to create a more precise, reactive, enjoyable car. More power, you'll note, only comes later.
So here are five options, covering front-wheel-drive and rear- wheel-drive, and various price points, plus the lowdown on the changes you should make, straight from the experts' mouths.
Mazda MX-5 (MK)
by Neil McKay, BBR-GTi
'You can find a reasonable early Mazda MX-5 Mk3 2-litre Sport for £3000-4000. Check for corrosion underneath and around the wheelarches, and make sure there's no knock from the main bearings due to running low on oil.
'Do the suspension first. There are lots of cheap coilover kits on the internet but a main brand is much better – you get what you pay for. For a 50:50 road and track car, I'd suggest going for our Koni dampers and spring combination [£695]; the fixed-rate spring coilover is really for trackdays only. Öhlins are great, but expensive [£1800]. If you're going for stickier rubber – I'd recommend Michelin Cup 2s and put them on a slightly wider, lighter wheel – fit upgraded anti-roll bars. The great thing is that the car's geometry is completely adjustable, so you can get the setup you want.
'Another really good aspect is the standard brakes – both the discs and the calipers. We just change the pads: EBC Yellow for occasional track use, Mintex or Ferrodo for anything more. Then it's really about power and removing weight. Our Super 180 conversion [£995] consists of a new exhaust manifold and remap, while the Super 200 [£1695] adds cams.'
VW Golf GTI (MK5)
By Matt Walker, Volkswagen Racing
'Find a VW Golf GTI car, but it doesn't need to be one-owner or low mileage. The suspension can be baggy and the brakes worn, as you'll be replacing those anyway; £4000-5000 should get something useable. Give the car a service first, and make sure it's mechanically sound, including checking that the fuel-pump cam follower has been changed. Then think about slowing down; only add power after that.
'You want this car to last all day at a track. If you're on a tight budget you can just upgrade the pads for £200, but you'll never really be able to get the heat out of the standard calipers, whereas our big-brake kit [£2300] – the same as on the race cars, with six- pot calipers and 360mm discs – will allow you to lap all day.''
> VW Golf GTI Clubsport S review
'Tyres? Either a quality set of Yokohamas or Toyo 888s, or a cheap set of used slicks you can change to when you arrive. There is a huge range of suspension options to fit all budgets, from a £200 set of springs through to £10,000 competition suspension. However, our Tracksport kit is similar to that of our race cars and costs £2500. It includes adjustable top mounts on the front.
'A complete kit to polybush the car is £400, and adjustable anti-roll bars are £500 a pair. Power upgrades are easy, starting at £500 for a remap with an extra 50bhp, but it's worth changing the engine mounts to stiffen up the front end of the car.'
MINI COOPER S (R56)By Emma Dutton, Lohen
'I'd seek out the later N18 engined Mini Cooper S over the original N14 – they don't suffer from the same coking around the injectors. Avoid sunroof cars, check for timing-chain "death rattle" – mainly on the N14 – and also the condition of the high-pressure fuel pump. £6000-7000 should buy a good car.
'Often customers want more power first, but we'd always suggest starting with brakes, suspension and tyres. The standard braking setup is small, so while there are a range of pad and disc upgrades for those just starting out, in the longer run a big-brake kit – our AP Racing option costs £1958 plus £180 fitting – will pay for itself through less wear. Consider that standard wheels don't have the offset to clear the bigger brakes, so a set of lightweight OZ rims is a great first step, combined with a sticky tyre, such as the Kumho V70A. 
> See our review of the Mini Cooper S
'For the suspension, ideally we'd suggest our KW Clubsport kit, which includes adjustable top mounts and full bump-and-rebound adjustment. This is firm but still reasonable for road use. A proper geometry setup with corner weighting is a must. From there, it's about power and measures to cope with it. Our Performance Pack 2 [£1895] adds 75bhp. At that power level a limited-slip differential is wise; either a Quaife ATB [£690] for someone who wants to use the car daily – these were also used in the Mini Challenge, so they're still good on track – or a Tran-X unit for the ultimate in trackday performance. These are adjustable, but we'd probably refresh them as a service item at the end of the trackday season, and they can be clonky at low speed. It depends on the mix between road and track driving the customer wants to do.
'When fitting the differential [£450 labour], we'd always say change the clutch and flywheel at the same time, for only an extra half-hour's work. They will suffer on track at this power, so a Helix clutch kit and single-mass flywheel are advised – the six-paddle clutch is a good compromise. Beyond this you're into forged engine internals and saving weight. We do lightweight door cards, which you'll need if you want to fit a cage.'
BMW M3 (E46)
By Sunny Panikker, BHP Motorsport
'I'd only consider a manual BMW M3 for a trackday car conversion. When buying, look for cracking around the differential mounts, VANOS issues and, these days, head gaskets and worn bottom ends. If you can afford it, buy a 53-plate-onwards car – the engines are stronger. Buy the best car you can, even though it's for the track.
'I'd flush the engine oil through and change the gearbox and differential oil. Then the number-one issue will be the brakes. If you can afford it, the AP Racing six-pot calipers and discs are great. If not, try an aftermarket disc, and if not that, just try harder pads, uprated Brembo brake fluid and braided lines – the standard fluid will boil. Add some brake cooling at the front axle with a flexi-hose.
> Click here for our review of the BMW M4
'Check the suspension bushes for wear, particularly the trailing arms. If you are replacing these, use polybushes. Dampers are important, but even race cars can use the standard anti-roll bars. KW or Bilstein coilovers, at £1500 upwards, are nice – cheap stuff isn't worth it. You'll also need a track-geometry setup [£400], and grippier tyres will make a difference, too. You can put the rear wheels on the front axle to broaden the track, but they're heavy – it's worth investing in a lighter set.
'You can get around 350bhp out of these cars [up from 338bhp when the car was brand new] with a new induction kit, exhaust and ECU remap, but the next stage is really about removing weight from the car – rear bench out, bucket seats, removing the luxury items and so on.'
LOTUS ELISE 111R
By Greg Lock, Hangar 111
'A lot comes down to budget, but a decent Lotus Elise 111R at £17,000 should be fine. Drive it, check all the electrics work, and perhaps find a basic car without many luxuries.
'There are a lot of cars out there already modified for the track, some good, some very bad. However, if starting from the bare bones I'd go for a pair of race seats with harness holes [£1000-2000], harnesses [£200- 300] and a harness bar [£150 – fitted behind the roll bar].
'To upgrade the brakes you can either go for a cheap solution of upgraded discs [£150 per pair] or an AP Racing setup with our own alloy bells. These are £650 for a front pair, but some race for two seasons on them. Good pads cost £150.
> Read our Lotus Elise S2 buying guide here
'A quick steering rack [£460] transforms the car, and should be combined with a geometry setup [£160]. The standard anti-roll bars wear quickly, whereas our five-way adjustable ones [£150] won't. Most 111Rs had the skinny, 175-section front tyre; you can fit a bigger tyre on the rim but ideally you'd go for wider wheels to stop the tread block rolling under during hard cornering. If you can afford the LTS-compound Yokohama A048R, they're brilliant, but Toyo R888s or Avon ZZRs are also good.
'There are so many combinations of aftermarket dampers, from £800 to £5000 and even more. The more complicated solutions do need to be setup properly with testing, though. I'd say £1200-1400 would get you some good Nitrons for road and track use, but the best would be the JRZ setup at £1920. A rear toe kit [£450- 600] tightens up the rear of the car and won't wear out.
'Engine-wise, you'll spend a lot of money for small gains – hint, it's better to supercharge. But check the car has oil rads fitted, and an induction kit, sports cat manifold and remap will speed up the changeover to the top cams and lower the rev point at which this happens.'
> Book your next evo track day here