If you value driving thrills but can't stretch to the price of a true supercar, a sports car from the tier below could be the ideal compromise. The best sports cars on the market offer huge capability and levels of day-to-day usability that would have been unimaginable a decade ago. Here we've picked the 10 current models that we think fill the sports car role best.  
The term 'sports car' is one of the hardest to define. It can often mean a two-seater, but doesn't always; it sometimes suggests a roof that can be lowered, but that isn't essential either. The one constant is that the car has been designed to be driven for pleasure. If it has no more than two doors and isn't a supercar, then all the better.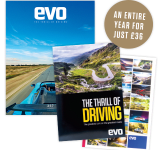 Subscribe to evo magazine
evo is 21 and to celebrate, we're returning to 1998 prices! Subscribe now to SAVE 39% on the shop price and get evo for its original cover price of £3.00 an issue, plus get a FREE gift worth £25!
Few categories offer so much variety in terms of layout, either. Different engine positions, a wide range of cylinder counts, natural aspiration or forced induction, manual or automatic gearboxes, two- or four-wheel drive – the numerous combinations ensure no two sports car spec sheets look alike.
In its rawest form, a sports car can be incredibly focused but also borderline uncomfortable, yet the very best manage to be accessible and amenable while still offering the purity of driver involvement and layers of character that underpin the thrill of driving. And it's this type that we're focusing on here as we pick our 10 favourite sports cars currently on sale. We think you'll agree, right now is something of a golden age for the class.
evo's 10 best sports cars
Nissan GT-R
At a tad under £80,000, the Nissan GT-R represents a (relative) bargain. It is brutal and intense, mixing vast power with a myriad of complex systems for bewildering pace.
Launch control engaged, the GT-R rockets from the blocks, hitting 62mph in 2.7sec and steaming north of 150mph without fuss. There's an industrial aggression to the V6 soundtrack, underlined by the whoosh of fully spooled turbos cranking out 470lb ft from 3600rpm. It surges with angst, unobstructed thanks to seamless shifts as you wring out the full 562bhp. The onslaught of full acceleration is always slightly unnerving.  
Revised year on year, the R35 has garnered some civility a decade after it first emerged from the hermetically sealed factory. The more forgiving ride hasn't dialled out adjustability from the chassis, but stepping out the back end will require a firm hand and more assertive approach. Grip feels as infinite as ever and the four-wheel-drive system makes progress devastatingly unflappable.
> 2020MY Nissan GT-R Nismo revealed with incremental updates
Alpine A110 S
The Alpine A110 was an outstanding first effort from the revived marque to say the least, receiving almost full marks in our review and coming just a few points short of the top spot in 2018's eCoty. Sitting in-line with the likes of Porsche's class-leading Cayman, but with added agility thanks to a lower kerb weight, it's a rather accomplished machine. 
Though the standard car would have sufficed, Alpine decided to add an S-variant to the lineup, extracting an additional 39bhp from its 1.8-litre turbo 4-pot power plant, lining the interior with a little more Alcantara and tweaking the setup for a better overall driving experience. There's still no manual option, but that certainly won't deter us...
> 2019 Alpine A110 S review - has France's brilliant sports car been spoilt?
BMW M2 Competition
The M2 Competition replaced the N55-equipped M2, adding a full-fat M-developed S55 straight-six to the mix. The model is a nod to the old-school way of doing things in the sports car arena, with power sent to the rear wheels only, from the engine upfront, through a manual 'box in the middle. 
Aside from the engine, other tweaks for the Competition include chassis tweaks to provide extra strengthening for the bodyshell and stiffer rear axle mounts. To maximise the gains delivered by these upgrades BMW's engineers have also recalibrated both the ESP and the electronically controlled limited slip differential.
The M2 Competition is lithe and nimble, easily threaded at speed down a challenging road with an air purity to the process. Get generous with the throttle and the M2 becomes as angry as its bulging, short overhangs suggest, kicking out its tail – and hanging it there – with ease.
> BMW M2 CS revealed to rival Porsche Cayman GT4 
Jaguar F-type
The Jaguar F-type isn't short of British sex appeal. One of the prettiest Jaguars of the modern era, it is a rather good drive too. There are numerous ways to spec an F-Type: coupe or soft-top, rear- or four-wheel drive, manual or auto, and with five different power levels from three different engines to choose from. We are yet to drive the new entry-level four-pot.
The supercharged V6 in either state of tune is responsive and linear, sounding out a volley of pops and parps as you shuffle through the six-speed manual or eight-speed auto (the sole choice if you want all-wheel drive). The V8-engined R packs serious muscle, directing 542bhp rearwards or to all four corners. The extra speed and weight (in the nose) with the V8 means you enter corners more gingerly, but exit slightly leaden of foot while the 5-litre exhales sonorously via a quartet of pipes.
The V6 cars' greater neutrality and rear-biased balance lend themselves to apparent oversteer on rear-driven versions. The 375bhp S gets a mechanical limited-slip differential, all the better for managing the oversteer. The V8 cars are less biddable, so opting for four-wheel drive to cope with all the extra shove is understandable and by no means robs you of enjoyment, but it does strip away a few layers of excitement.
> Jaguar F-type SVR review - improvements in every area for 200mph Jag
Toyota GT86/Subaru BRZ
Toyota's GT86 and the Subaru BRZ both offer a much-needed break from today's forced-induction, hybrid-assist efficiency offensive, in the form of a driving experience akin to that of a machine from 15 years prior. The GT86/BRZ experience is all about sensation: perceiving body movements, grip levels and pitch and yaw through the seat of your pants.
Natural-aspiration, rear-wheel-drive and a manual gearbox are all you'll find in either model, and although they have their quirks, they're cars we should only embrace. The standard setup offers a set of ecocentric tyres usually found on a Prius, but before you scroll on, this makes it much more playful than its power figure would lead you to believe...
> Toyota GT86 review – The best budget sports car on sale?
Porsche 911
It seems it has been the case since the inception of the motor car, but the Porsche 911 is the universal sports car benchmark, and continues to be with the arrival of the all-new 992 generation.
More weight, expense and (marginally) larger dimensions don't stand the 992 Carrera on good ground, but get behind the wheel and there's no mistaking you're in anything other than a Porsche. Refinement and polish are immaculate, with every driver-machine interaction coming with a level of sophistication rarely seen in the class. 
Driver involvement and character has taken a hit as a result, but Porsche's boffins are already hard at work creating next-generation GT cars to give us the very best experience they have to offer. As a useable sports car, capable of more than most people know possible, the Porsche 911 is still hard to beat should you have the money. 
> Porsche 911 review - is the 992 still the ultimate everyday performance car?
BMW M4 Competition
The BMW M4 didn't quite cut it for us at its inception, with the then-new turbocharged S55 power plant a drastic change from the high-revving S65 V8 of the E92, and handling not quite where we wanted it. Over the years, however, BMW perfected the formula, resulting in a car that won best coupe of the year in eCotY 2017. 
Power for the uprated Competition model sits at 444bhp and 406lb ft of torque, up 19bhp over the standard car. The tweaks that really made the difference were the addition of stiffer springs, recalibrated adaptive dampers, a remapped limited-slip differential and lighter 20-inch wheels, transforming the M4 into a much more predictable and progressive machine than before.
> BMW M4 review – has BMW honed the M4 into a class leader?
Lotus Exige
Bar the limited-run, open-wheel specials, the Exige is the purest form of Lotus one can get, with tiny dimensions, a tiny weight figure and a not-so-tiny engine forming a near-perfect package. 
Its gearbox is that bit sweeter than the unit in its bigger brother, the Evora, requiring no conscious thought to snick from ratio to ratio and the chassis strikes the perfect balance between immediacy and flightiness, with the steering allowing you to measure out microscopic adjustments to trace the line your eyes have mapped out ahead. 
Applying throttle loads is similarly precise, offering options on how you steer the car through a corner. It's no slouch in a straight line, either; the range-topping 430 model boasts a monumental 430bhp for a power-to-weight figure of over 400bhp per tonne.
> Limited-edition Lotus Exige Cup 430 Type 25 revealed
Porsche Cayman GT4/ Boxster Spyder
Though it might have gained a noise-restricting Oil Particulate Filter and a few kilos of weight, the latest Cayman GT4 is still an improvement on the last, that's why it's made it to this list.
A new 4.0-litre naturally-aspirated flat-six, derived from the excellent turbocharged 3.0-litre from the 992, puts 414bhp and 309lb ft of torque to the rear wheels through one of the best manual transmissions on the market. 
Just when we thought handling characteristics of the 981 couldn't be improved upon, the 718 takes things a step further. The new GT4 is also host to an exceedingly rare attribute in its class, offering an incredible driver-machine connection that turns even slight inputs into instant responses.
If you're one for open-top thrills, the new Boxster offers the same benefits without a roof or rear wing. It's a win-win.
> New 2019 Porsche Cayman GT4 review - it's a bit special