Decisions have to be made and scores awarded. Never in all of the group tests and eCotys over the years have I seen so much agonising. Usually there might be a split, but individuals will know in their own minds which is the winner for them. This time everyone seems to have two or three cars that they want to see sharing the top step.
But it isn't the Evo VI Tommi Makinen Edition, which ends up four-wheel drifting its way to tenth place in the top 100. 'It's brilliant when you're on it, but just a bit ordinary when you're pootling around,' says Barker. Simister was very impressed by its 'steering, handling and remarkably absorbent ride' and admits that the Makinen is 'a truly lovely Evo', even though he 'doesn't really get the whole Evo cult thing'. Metcalfe sums it up with: 'A very desirable bit of kit if you like this sort of thing, but I think greater driver rewards are to be found elsewhere.'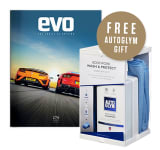 Subscribe to evo magazine
Subscribe today to our exclusive new offer and SAVE 39% on the shop price, get evo for its original cover price of £3.00 an issue, plus get a FREE gift worth £20!
Ninth is the Mazda MX-5. Everyone admired the balance and accessibility of the Mazda. 'Light, delicate, agile, adjustable, comfortable. A car that sets itself realistic targets and hits every one plumb in the middle,' says Vivian. But as Metcalfe comments, 'There isn't enough fire in its belly,' so you enjoy it rather than get excited about it.
Screaming into equal seventh place at 9000rpm is – and this might be a shock – the Ferrari F50. 'Old school' was a phrase used by most and 'wide' was another word that cropped up a lot. 'It is very hard, noisy and mechanical, but unerringly honest and communicative,' says Vivian, before declaring it 'a proper, hairy-balled supercar'. Which goes some way to explaining why Hayman loved it and has it third on his list (written on the back of a packet of Lambert & Butler).
By the way, if any of the comments as we run down the final ten seem harsh or nitpicking, that's because they are. They have to be. This is the top ten – all these cars are brilliant and wonderful to drive. Don't be upset that your F50 has only come seventh – we're not denigrating, merely differentiating. Now, on to the truly rubbish Clio Trophy. Only joking.
It's equal on points with the Ferrari, but if there was a prize for enthusiasm then the Clio would win hands down. It isn't the most pure or sophisticated car here but it is ridiculous fun. The suspension seems to have oodles of pitch and roll and what Hales describes as 'a lot going on in the transients' (like when changing  direction), but the only time it really loses out is when people start talking about another Renault…
Time-warping into sixth place is the Elan. 'It is a fluent joy and its small size makes it very handy on tight roads,' says the equally diminutive Simister. 'The mechanical grip it can create from such minuscule tyres is little short of miraculous and the liberties you can take are little short of astonishing,' says Metcalfe. That the original showed Mazda's modern incarnation a clean pair of heals might seem incredible, but the genius of Colin Chapman should never be underestimated.
The Mégane R26.R is the fifth greatest drivers' car. 'A beautifully sorted front-wheel-drive car,' enthuses Hales. 'The slightly larger dimensions [than the Clio] make all the difference to the way the chassis reacts and the way it puts down the power.' Barker goes further still: 'Magic from the moment the wheels turn to when they come to rest again. Exceptional damping and everything else matches – grip, steering feel and weight… everything.'
Which takes us into the final four. You really could make a case for any one of these cars winning, but the scores show that in fourth place it's the Caterham Seven. Barker, Hayman and I all had it top of our lists for its purity and the fact that you can't get any closer to actually being connected to a car when driving. But Hales best sums up its brilliance and also why it doesn't win: 'There's no denying the wonderful steering, which is sharp and more direct than the thought which commands it, or the way the front points without scaring you, or the way the tail then announces the onset of a slide while inviting you to keep your foot in. However, not everybody wants to be deafened and shaken, then probably soaked as well.'
Many would have tipped the GT3 to win, but Stuttgart will have to settle for third this time. I have to confess that I love the 996 GT3 so much that I've spent long evenings thinking about spending what I was saving for a house deposit on a swoopy spoilered wonder instead. But as Barker says, 'Although it is a drivers' car for life – everyday practical, and with a depth of quality and reward that you would never tire of – it felt a bit "muffled" after the lightweights.'
If being the greatest drivers' car meant having the world's best steering then the Lotus 340R (or any mk1 Elise/Exige) would be standing on the top step. 'The 340R is like an Elise turned up to 11,' says unlikely Spinal Tap fan Metcalfe. 'The chassis composure when really pushed is beyond brilliant; it's close to unbelievable'. John Simister has the 340R at the top of his list 'for its speed, purity, transparency and compactness. It provides a huge visceral buzz yet doesn't assault you with the wrong sort of "noise".' 'Sublime,' says Barker.
And so, with a drum roll provided by art director Paul Lang via the medium of his hands and the plastic rear windows of the Mégane, it is an honour to announce the winner as… the Pagani Zonda F. Here's how the praise stacks up. 'A car that can comfortably live up to all the hype,' says Metcalfe. 'A supercar you really can drive as if it was an Elise, yet which gives you the full-scale Panavision, HD, Technicolor supercar experience. A car to melt the heart of the coldest, most stubborn supercar critic…' says Barker, before handing over to that very critic in the form of Simister, who admits that 'it appears to weigh nothing, it's both visceral and forgiving and you feel in total control'. 'Overwhelming, shattering, utterly addictive,' concludes Vivian.
When you see a Zonda it is easy to treat it as art, something to be looked at and occasionally driven between backdrops, but next time try to look past all the carbonfibre confection because underneath is a truly, wonderfully fabulous drivers' car. The greatest, in fact.
* This is the much shortened online-sympathetic version of the Top Ten Shootout. Full uncut version available in issue 135. Back issues hotline 0844 844 0039
Huge thanks to Joe Macari Performance Cars for the F50 (for their latest stocklist visit joemacari.com), Darragh Walsh for the GT3, Chris Short for the Evo, Peter Esders for the MX-5 and Leigh for the Zonda F.
100 Greatest Drivers Cars 20-11
100 Greatest Drivers Cars 30-21
100 Greatest Drivers Cars 40-31
100 Greatest Drivers Cars 50-41
100 Greatest Drivers Cars 60-51
100 Greatest Drivers Cars 70-61
100 Greatest Drivers Cars 80-71
100 Greatest Drivers Cars 90-81
100 Greatest Drivers Cars 100-91