What is it?
This is Infiniti's stab at breaking into the premium sports coupe market. The sector that is currently occupied by the Audi S5, the Mercedes-AMG C43 Coupe and the BMW 440i. To do that, Infiniti has equipped the Q60S with four-wheel drive and a 3-litre twin turbocharged V6, just like the Audi and the Mercedes.
> Click here to read our Mercedes-AMG C43 review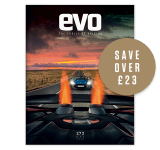 Subscribe to evo magazine
Subscribe today to have every issue of evo delivered straight to you. You'll SAVE 39% on the shop price, and get evo for its original cover price for a whole year!
As well as being rather more elaborate styled than its competitors, the Infiniti has 400bhp to elevate it above its rivals. That's 38bhp more than the Mercedes-AMG C43, 51bhp more than Audi's recently released S5 and 78bhp more than BMW's new 440i.
Technical highlights?
The Q60S has a plethora of technical assets. To begin with there are safety systems including radar guided cruise control that looks two cars ahead to better detect any slowing of traffic, a system that keeps you in your lane on motorways and stops you pulling into any cars that might be in your blind spot, and another detection system that alerts you if there is a car approaching as you reverse out of a parking space.
The Q60S has double-wishbone front suspension and a multilink rear axle. The chassis is controlled by adaptive dampers that change their attitude depending on which one of the driving modes you select: Snow, Eco, Standard, Sport and Sport+. A viscous coupling distributes the torque between the two axles, the Q60 is rear wheel drive most of the time but the front wheels are called into play should more traction be needed. Then there's Active Trace Control, a brake-assisted torque vectoring system, to further keep you on your desired path.
But the most remarkable piece of technology in the Q60S is its steering. The Q60S has what Infiniti call Direct Adaptive Steering (DAS), it is a steer-by-wire system and so the Q60 has no direct connection from the steering wheel to the front wheels. There is a mechanical back-up for safety reasons, but when driving normally all the steering and feedback is performed by electronic servos. This means that the steering can adopt various different ratios depending on the speed of the car and which driving mode it is in.
Engine, transmission and 0-60 time 
The Q60S's 2997cc twin turbocharged V6 may well give it more power than its rivals, but the engine doesn't shout about it; the exhaust is quiet, with no unnecessary pops or crackles. Instead it revs with a smooth and clean noise that is pleasant, if slightly lacking any drama.
The automatic gearbox is a traditional torque converter. It isn't the quickest transmission, whether it's left in auto or if you use the steering wheel mounted paddles and downshifts do seem particularly laboured. Sadly the delay in changing gear robs you of a lot of enjoyment from the engine, which revs cleanly without hesitation.
The Q60S doesn't seem to have the shove that you'd expect from 400bhp, thouhgh. It may well be 200kg heavier than the C43, but the Q60 is also very quiet with little to no wind and tyre noise. This refinement cossets you and makes it difficult to judge how quick you're traveling, because quite often it's faster than you expect. The Q60S certainly can shift, but it does so in a more subtle way than its 0-62mph time of 5.0sec suggests.
What's it like to drive?
There is a huge range of movement from the seat and steering wheel so finding the ideal driving position is easy. It does initially feel like your sat too high, but actually that's because the windscreen scuttle is low giving you a great view ahead.
With the cabin noise similar to some of the most luxurious cars on the market, the Q60S is surprisingly firm and the ride, even when in Standard mode, only really settles on the smoothest of roads. But that firm ride does translate into real agility, the Q60S changes direction instantly with very little roll. The steering doesn't transmit much in the way of meaningful feedback to your fingertips but as the Q60S responds loyally to your inputs it doesn't take long before it feels intuitive to place the Q60S, even with the changing steering ratio.
The torque vectoring system is very effective, contributing to the Q60S's accuracy. However, the combination of the torque vectoring and four-wheel drive means there's not a lot of joy or satisfaction to be had when you really push. With Sport or Sport+ mode engaged there is a palpable sense of the Infiniti sending power to the rear as it pushes you out of a corner. But this doesn't translate into oversteer and certainly doesn't require any correction from the driver. There is plenty of traction and the Q60S remains composed in almost any situation, it even found surprising amounts of grip on unseasonably wet Californian roads.
Disable the traction control and things are very different. Initial turn in is similarly darty, but as you power of a corner the Q60S's front end pushes on. What's more, the steering doesn't communicate any of this, and you only become aware of the understeer when you find yourself carving a wider arc than you intended. The extremely slippery surface of the wet roads may have exasperated the problem, but what they did reveal is how reliant the Q60S is on its traction control, torque vectoring electronic systems.
Rivals
The Q60S is more luxurious than the German coupes that it is going head to head with. And although its rivals aren't significantly more engaging to drive, but they don't rely so heavily on their electronic aids. Ultimately that makes them slightly more entertaining to drive.