20 years of evo - the interviews - Stuart Gallagher, Editor (2017-present) interview - 20 years of evo
To mark 20 years of the magazine, we ask Editor (2017-present) Stuart Gallagher to recall his most memorable evo moments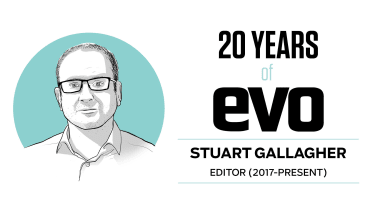 This year evo celebrates its 20th birthday. To mark the occasion, in this series we're asking key members of the team to recall their most memorable evo moments.
Tell us your earliest evo memory
Back in 1998, when Dickie Meaden asked if I would like to meet him and John Barker in their temporary office (I say office, I've seen bigger kennels) to discuss joining their new venture. There was half a dozen dummy covers on the wall with a selection of potential names for their new magazine (RPM and Roadsport were amongst them). We then went for a curry and came up with the idea for The Knowledge. Dickie called me a few days later to offer me a job as staff writer.
What was the first car you drove for evo?
A Ford Puma  for the dummy issue cover shoot. Naturally we went to north Wales and assembled a Diablo, Elise, Integra Type R  and Mitsubishi Evo V. Quite the start.
What was your first car launch for evo?
Audi TT, for issue 001. Harry Metcalfe bought an Audi Quattro 20V and the following evening photographer Gus Gregory and I embarked on a 1190-mile trip to the TT's Umbria launch venue. We left at 1.30am, had a late breakfast in the foothills of the Alps and reached Rome in time for dinner. I then left Gus's car cleaning kit in a lay-by the next day as we approached the launch venue and he's never let me forget it to this day.
What is the most memorable evo test you have been part of?
There are so many from the past and more recent issues, but the 'Best Driver's Cars in the Real World' test (issue 019) really stands out. Not because of the embarrassment of riches we had managed to assemble (an Impreza P1, Clio Williams, 968 Club Sport, original NSX and E34 M5 were among the 15 contenders), but because of the way we conducted the test – from the analytical driving at MIRA to the subjective in north Wales. For me it clearly defined what evo was about and what we were all striving to achieve.
And your most memorable evo drive?
Who set these questions? Oh, me… An overnight drive to Cornwall to see the first issue off the presses; an Impreza RB5 dash through the night from Wollaston to Munich; Aventador SV from Wick to Essex (my back has never forgiven me); anything involving an E30 M3 or Elise. But just the one? Cayman GT4  from Gairloch to Kylesku during eCoty 2015 (issue 216); perfect car, perfect road.
Your worst evo moment is…
Leaving in 1999 and taking 15 years to come back.
Tell us about the most disappointing car you've driven while at evo
I drove a VW Arteon the other day, that was pretty forgettable… Sorry, what was the question? Ah, yes, most disappointing car: Alfa 4C. Love everything about it, except the way it drives, which is impressively bad considering it was developed in the 21st century.
Your favourite evo story by a colleague?
Peter Tomalin's 'The Test' (issue 022) instantly springs to mind, not only because Peter is a wonderful writer and brilliant storyteller but because it was a test that only evo could pull off. Dickie Meaden's first foray at the Nürburgring 24 Hours (issue 094) and his 'Highway to Heaven' story (Ferrari F40  and F50, Lamborghini Murciélago SV, McLaren F1, Noble M600, Pagani Zonda F, Porsche Carrera GT – issue 186) with Jethro Bovingdon was pure evo. So too was Adam Towler's recent drive of the McLaren Senna in the Scottish Highlands (issue 252). All deliver adventure and thrills on every page.
What's the one car you wish you had driven during the last 20 years?
When we pulled together our McLaren Megatest for issue 228, I thought it would provide my chance to drive an F1. Then I checked the calendar and saw the day of the test clashed with the magazine's deadline. To this day I'm not sure how I managed to stay in the office. Perhaps it was the lure of deadline-night kebabs.
And finally, what's your favourite car launched in the last 20 years?
This is evo, I have to say a Porsche 911, don't I? Actually, the 997.2 GT3 RS is such a special car it would be churlish to suggest anything else. Unless it was a McLaren 675LT, Carrera GT, Exige Sport 410, R26.R, Cayman GT4…