The internet, with its vast collection of cars for sale of every discernible type and price range, is at once the casual car buyer's greatest friend and most hated enemy. On the one hand, the wealth of new and used car deals available means finding that elusive perfect next car at a great price becomes a real possibility. On the other hand, the endless scope for car enthusiasts to waste hours upon hours mulling over the latest listings poses the serious risk that they'll never actually get anything constructive done in their day-to-day lives.
Thankfully, the evo team has come to the rescue. Once again we've diligently wasted hours of valuable time scouring the internet in search of the best sports and performance cars out there for sale at the moment. You can thank us later but for now, scroll down to explore the best car deals of the week…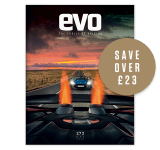 Subscribe to evo magazine
Subscribe today to have every issue of evo delivered straight to you. You'll SAVE 39% on the shop price, and get evo for its original cover price for a whole year!
As always, these stone-cold bargains were intermingled with others that are overpriced and/or potential money pits waiting to swallow your savings, so you need to keep your wits about you at all times. Should you really splash out on that BMW i8? Is it wise to take the plunge on that Hyundai i30 N? Well, that's ultimately down to you, but we've taken steps to help you make the right decision.
> Browse our used buying guides here
Best used car deals of the week
Below are our best used car spots of the week...
McLaren 600LT (2018)
£139,000
McLaren's 600LT is one of the best supercars of the last decade, taking the top spot in 2018's evo Car of the Year with its unmatched driver-machine connection. It also has a power plant to match, with a 3.8-litre twin-turbocharged flat-plane crank V8 sending 592bhp and 457lb ft of torque to the rear for a 2.9sec 0-62mph time and 204mph top speed.
> McLaren 600LT review – latest Longtail model set to take the fight to Porsche's RSs
Despite the 600LT's incredible performance, prices appear to take a steep dive as soon as they roll off the forecourt. After only 920 miles on the road, this near-new example has already fallen to under £140,000. It doesn't come without plenty of options, either, with the carbonfibre interior upgrade, uprated Bowers and Wilkins sound system and more, all coming equipped.
Hyundai i30 N Performance (2018)
£19,489
The i30 N Performance is a staggering first attempt at a hot hatch for Hyundai, but with development backed by former BMW M boss Albert Biermann, perhaps it shouldn't come as much of a surprise... A 2-litre turbocharged four-pot sends 271bhp and 279lb ft of torque to the front wheels in Performance guise, good for a 6.1sec 0-62mph time and 155mph top speed.
> Hyundai i30 N review – a great first try at hot hatch heroics
Though prices have held up remarkably well on the used market, they've finally dropped beneath the £20,000 mark. Some 37,000 miles after it left the factory, this unique 'Clean Slate' grey example can be yours for over £6000 under its original price when new.
BMW i8 (2015)
£42,000
The BMW i8 is no more, with the Munich marque celebrating its six-year production run with 18 uniquely specified examples. The eccentric sports car wasn't for some, with its hybrid powertrain lacking thrills and its six-figure price tag disproportionate to the performance on offer. Design and technology you'd only expect to find on a concept car aren't something to be taken for granted, however, and make it a very special machine indeed.
> BMW i8 reaches the end of production – here are the final 18 cars
Despite its high price when new, this 2015 car can be in your hands for the same price as an i3s with some options. Finished in a sharp silver shade with appropriately minimalistic wheels, it has covered a reasonable 15,363 miles in its lifetime, and comes equipped with Harmon Kardon audio, the Carpo Carum Grey interior world and more.
Audi RS4 Avant (2018)
£49,790
The latest RS4 might lack a couple of cylinders in the eyes of some, but its performance is better than ever. A 2.9-litre turbocharged V6 sends 444bhp and 443lb ft of torque to all four wheels for a 4.1sec 0-62mph time and 155mph top speed; plenty enough for the school run.
> Audi RS4 Avant review – verdict, specs and prices
Prices begin at over £60,000. However, after 28,739 miles on the road this 2018 example can be had at a discount of over £20,000. The uprated Bang and Olufsen 3D sound system, comfort and sound pack, panoramic sunroof and more, all come as part of the package.
Volkswagen Golf R (Mk7, 2015)
£15,995
The Volkswagen Golf R is one of the best hot hatches money can buy, and although the Mk8 iteration is just around the corner, you can now find Mk7s at incredible discounts on the list price. Powered by VAG's EA888 2.0-litre turbocharged four-pot, 306bhp and 280lb ft of torque are sent to all four wheels for a 0-62mph time of 5.1sec (when fitted with a manual) and a 155mph top speed. 
> 2019 Volkswagen Golf R review - the art of having your cake and eating it too
This tastefully specced Oryx white example comes with a 6spd manual, a full service history, 19" silver Pretoria wheels and 47,000 miles on the clock. With only a single owner on its books, this car can be yours for under £16,000. 
Ferrari 458 Italia (2011)
£115,990
The 458 Italia is the last of the naturally-aspirated V8 Ferraris, making it a rather significant model in the marque's history. Its F136 4.5-litre flat-plane crank V8 sends 562bhp and 398lb ft of torque to the rear, good for a 3.4sec 0-62mph time and 202mph top speed - respectable figures even almost a decade on.
> Ferrari 458: review, specs and buying guide
With only 19,500 miles on the clock, this sharp Nero Daytona example can be had for less than the price of a new BMW M8 Competition. Front end Paint Protection Film, Daytona seats and an uprated sound system all come equipped.
Mercedes-AMG E63 S (2018)
£54,990
The new E63 S has landed, with a fresh design, new tech and chassis tweaks. Powertrain specs have remained the same, however, with Affalterbach's 4.0-litre twin-turbocharged V8 still sending 604bhp and 627lb ft of torque to all four wheels for a 3.5sec 0-62mph time and 186mph top speed. 
> New Mercedes-AMG E63 S launched to rival 2020 BMW M5 Competition
Pricing for the new car is likely to start at around £100,000, but should this be a little steep, you can now get your hands on a pre-facelift model for almost half that amount. Drop back to this 2018 example with 19,000 miles on the clock, and you'll save around £50,000 over its list price. Not only do you get a staggering deal, you'll also receive carbon ceramic brakes, a panoramic sunroof, a full Mercedes-Benz service history and a classy Cavansite blue on Hazelnut brown leather colour scheme. 
McLaren 650S (2014)
£89,850
McLaren has launched the 720S Le Mans, celebrating 25 years since its 1995 win in the iconic F1 GTR. The 650S also received the same treatment, and although none are currently up for grabs on the used market, we did stumble upon this well-priced standard car. A 3.8-litre twin-turbocharged V8 is what lies under the skin, with 641bhp and 500lb ft of torque sending the supercar from standstill to 62mph in 2.9sec, and on to a 204mph top speed.
> McLaren 720S Le Mans Special Edition revealed
Despite an odometer reading of only 7486 miles, this example can be had for an incredible £89,850, almost £10,000 less than the new BMW M5 Competition. Finished in Stork Grey with a black leather interior, it comes with McLaren's uprated Sports exhaust, the carbonfibre interior upgrade, and has only a single owner on its books.
Ford Mustang Shelby GT350 (2016)
£60,000
Ford has provided the UK with the Mustang Bullitt and standard 5-litre Coyote, but the exciting Shelby cars very rarely make it to our shores. The absence of the GT350 is the biggest shame of them all, with it offering a naturally aspirated, flat-plane crank V8, paired to a manual transmission. Some 519bhp and 429lb ft of torque are sent to the rear from its 8250rpm 5.2-litre 'Voodoo' V8.
> Ford Mustang Mach 1 returns with GT350-lite performance and styling
The new Shelby GT500 and GT350R are the most common Shelby imports for the UK, but you'll pay somewhere in the region of £140,000 and £80,000 for those two models respectively. This Lightning Blue, 5860-mile GT350, however, is much more reasonable, setting you back only £60,000. If you're keen on your V8s and don't mind a LHD car, it's time to break out the piggy bank...
Mercedes-AMG S65 L (2015)
£65,000
The W222-generation Mercedes-AMG S65 was the swansong for the V12 S-class, turning the brand's 6-litre twin-turbocharged V12 up to 11 and adding more luxury than one could ever need. Some 630bhp and a gargantuan 737lb ft of torque provide the saloon with a 4.3sec 0-62mph time and 155mph top speed.
> Mercedes S65 AMG Coupe specs, prices and pictures
Despite a price tag in the region of £200,000 when new, this 43,000-mile example can be in your garage for only £65,000 – that's a saving of around £140,000, which is handy given the amount it'll cost you to run... Stealthy black paintwork, tasteful chrome trim, S65-specific chrome wheels and more, all come equipped for the same price as a new GLA45 S Plus.
Alpina B5 Biturbo (2017)
£69,995
Though we've been treated to a handful over the years, BMW's M division has failed to provide us with an M-badged estate in quite some time. To plug this gap, however, Alpina turned its hand to the V8-powered M550i, resulting in what is essentially an F90 M5 Estate. Its fettled 4.4-litre twin-turbocharged V8 produces an M5-matching 600bhp and 590lb ft of torque, good for a 0-62mph sprint of around 3.5sec and a blistering 205mph top speed.
> Alpina XB7 launched with 613bhp twin-turbocharged V8 
Just shy of £110,000 was the list price of this striking Alpina Green example. However, 12,152 miles of driving have brought it down to an incredible £69,995. The tuner's traditional 20-spoke wheels, an uprated Bang and Olufsen sound system, its usual interior treatment, and a full BMW warranty and service history all come included.
Tesla Roadster (2010)
£69,990
Take one Lotus Elise, add an all-electric powertrain, and you have yourself the Tesla Roadster. Thanks to its 248bhp, 280lb ft electric motor, 0-62mph happens in 3.7sec, with top speed coming at 125mph. These numbers seem bold, but it was no slouch when we got behind the wheel in 2008: '...this car is laugh-out-loud fast. Think of an Elise into which someone has installed a 5-litre V8 equipped with the mother of all silencers and you'll have some idea of what it is like to drive.'
> '2020' Tesla Roadster delayed by Covid-19
This 'Signature Sport edition' has only 11,300 miles on the clock, a full Tesla service history, and is finished in the same metallic red shade as Elon Musk's personal car that was sent into space in 2018. A £70,000, decade-old electric sports car might not seem like an awfully sensible purchase, but consider the incredible success Tesla has seen in recent years, and owning it's very first car might not seem so mad after all…
Porsche 911 GT3 (991, 2013)
£89,990
The 911 GT3 has made it to this page quite a few times, and for good reason. Being one of the best driver's machines money can buy, and free of a limited-run plaque on the door sill, depreciation takes its toll quite nicely on the middling GT product.
> New 2017 Porsche 911 GT3 review - is it still the best of the breed?
This 991.1-generation car has covered 22,412 miles since it rolled out of the Stuttgart factory in 2013, comes with a full Porsche service history, and is finished in white with a black leather and Alcantara interior. Powered by a 3.8-litre naturally aspirated flat-six, 475bhp and 325lb ft of torque help it reach 62mph in 3.5sec, and go on to a near-200mph top speed.
Lamborghini Aventador (2012)
£168,975
A welcome break from today's onslaught of SUVs and electrified machines, the Lamborghini Aventador takes an entirely different approach to the performance car brief. Powered by a naturally-aspirated, 6.5-litre V12, it sends 700bhp and 507lb ft of torque to all four wheels for a 2.9sec 0-62mph sprint and an impressive 217mph top speed. 
It's clear that useability and comfort weren't high on the agenda during its development, but the resulting driving experience is one we're yet to find anywhere else.
> New Lamborghini Sian – most powerful Lambo yet makes Frankfurt debut
Despite our appreciation for its downfalls, the used market doesn't appear to have taken kindly to them, and that's great news for the discerning buyer. The Aventador might still hold flagship status, even almost a decade on, but this launch spec, 7,900-mile Arancio Argos example can be yours for less than the price of a new Huracan.