The internet, with its vast collection of cars for sale of every discernible type and price range, is at once the casual car buyer's greatest friend and most hated enemy. On the one hand, the wealth of new and used car deals available means finding that elusive perfect next car at a great price becomes a real possibility. On the other hand, the endless scope for car enthusiasts to waste hours upon hours mulling over the latest listings poses the serious risk that they'll never actually get anything constructive done in their day-to-day lives.
Thankfully, the evo team has come to the rescue. Once again we've diligently wasted hours of valuable time scouring the internet in search of the best sports and performance cars out there for sale at the moment. You can thank us later but for now, scroll down to explore the best car deals of the week…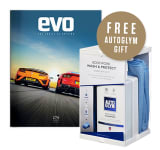 Subscribe to evo magazine
Subscribe today to our exclusive new offer and SAVE 39% on the shop price, get evo for its original cover price of £3.00 an issue, plus get a FREE gift worth £20!
As always, these stone-cold bargains were intermingled with others that are overpriced and/or potential money pits waiting to swallow your savings, so you need to keep your wits about you at all times. Should you really splash out on that Audi RS4? Is it wise to take the plunge on that Fiesta ST? Well, that's ultimately down to you, but we've taken steps to help you make the right decision.
> Browse our used buying guides here
Best used car deals of the week
Below are our best used car spots of the week...
Audi RS4 Avant (2014)
£33,995
The current Audi RS4 dropped eight cylinders for six, and although the new car is more accomplished in many respects, the loss of a V8 was always going to be a tough pill to swallow. Launched in 2012, the B8-generation RS4 boasts a 4.2-litre naturally-aspirated V8, sending 444bhp and 317lb ft of torque to all four wheels, enough for a 4.7sec 0-62mph time and a 155mph top speed. 
> New Audi RS4 review – no V8 but plenty to compensate for it
This particular example is finished in a rather bright Audi Exclusive Java Green paintwork, and is one of only two cars delivered to the UK in this shade. £14,000 of optional extras were specced from new, including a panoramic sunroof, an uprated exhaust system, sports suspension, a Bang & Olufsen sound system and more. Coming with a full service history, this 47,000-mile car can be in your hands for £33,995.
Ford Fiesta ST-3 (2014)
£8910
The Ford Fiesta ST is a benchmark for the performance supermini, coming with a well-sorted chassis and a powertrain to match. Under the bonnet is a 1.6-litre turbocharged four-pot, producing 180bhp and 213lb ft of torque for a respectable 6.9sec 0-62mph time and 139mph top speed.
> 2019 Ford Fiesta ST review – simple, honest fun
Unfortunately, it seems the used car market also understands the appeal, meaning prices have been slow to drop despite the launch of the seventh-generation car. This ST-3, however, is one of the best you'll find, finished in a crisp white shade and displaying 44,068 miles on the clock, all for under half the price of the all-new model. 
Porsche 718 Cayman (2017)
£30,995
Yes, Porsche did admit defeat with the reintroduction of a six-cylinder into the 718 GTS, but at a discount over its new price, we can't help but think the four-pot's an interesting proposition… Its 2.0-litre turbocharged unit sends 296bhp and a healthy 280lb ft of torque to the rear wheels, good for a 5.1sec 0-62mph time and 170mph top speed. 
> Porsche 718 Cayman review – the entry-level Porsche punches above its weight
Coming in at Volkswagen Golf R money whilst offering the occasion of a two-seat sports car, this 12,397-mile example could be an intriguing option for those that want an alternative to a hot hatch. Finished in Racing yellow with contrasting, 20" gloss black wheels, this car is specced with a sports exhaust system and the all-important manual gearbox.
Mercedes-Benz S500 L (2017)
£38,000
Being Mercedes's flagship luxury saloon, you'd be forgiven for thinking that the S-class is no more than a distant dream for most. Thanks to the mysterious effect of depreciation on high-end German machines, however, this 2017, long wheelbase S500 has lost an astonishing £60,000 in value, after covering only 1860 miles - that puts the price of a 100-mile trip at around £3000.
> Mercedes-Benz S-class review - incredible levels of high-tech luxury
455bhp and 516lb ft of torque come from a 4.7-litre twin-turbocharged V8, sending it from standstill to 62mph in 4.8sec and onto a top speed of 155mph. Cheap it might be, but a panoramic sunroof, ambient lighting and the AMG Styling pack all come equipped on this car.
Mercedes-Benz SL63 AMG (2014)
£34,950
The inclusion of this car in our used car deals of the week should need no explanation - hot hatch money for a 530bhp, V8, AMG convertible. Granted, drop-tops aren't for some, but no matter what your automotive preferences are, this deal is too good to ignore. A 5.5-litre twin-turbocharged V8 sends 530bhp and a hefty 590lb ft of torque to the rear wheels for a 4.3sec 0-62mph and a 155mph top speed - plenty enough for a Sunday afternoon waft. 
> 2021 Mercedes-AMG GT R Black Series spied with GT3-inspired front end
Despite its price, this particular example has seen just one owner from new, has the AMG carbonfibre package, staggered 19-20" wheels, an uprated Harmon Kardon sound system and more. 
Land Rover Defender 90 Works (2014)
£175,000
You're right, coming at a £25,000 premium over its already-optimistic price tag when new, this car is perhaps the complete opposite of a deal. With the launch of the all-new Defender upon us, however, this limited-run, V8-equipped Works model has only gained in desirability, making it a rather attractive collector's piece.
> Land Rover Defender Works – celebrating 70 years of the iconic model
Powered by the same 5.0-litre supercharged V8 you'll find under the bonnet on the Range Rover Sport SVR, 399bhp and 390lb ft of torque are sent to all four wheels for a hilarious 5.6sec 0-62mph time. Should you have a wad of cash burning a hole in your pocket, this could be for you. 
Porsche 911 Turbo S (2014)
£84,950
The 992-generation 911 Turbo S has arrived, bringing marginal gains in power, more tech and of course, more performance than before. With a near-600bhp 3.8-litre twin-turbocharged flat-six, however, the last-generation Turbo S was certainly no slouch, sprinting from 0-62mph in 2.9sec and going onto a top speed of 205mph. 
> New Porsche 911 Turbo gains Lightweight and Sport packages 
This 2014 example is finished in a sharp on red interior combination, and comes equipped with 20" diamond-cut Turbo S wheels, alongside a host of other optional extras, all for just shy of £85,000.
Volkswagen Golf R (2015)
£13,500
The Golf R sets the benchmark for the hot hatch, boasting a highly effective powertrain, satisfying handling characteristics and a classless image. Powered by VAG's ubiquitous EA888 2.0-litre turbocharged four-pot, it sends 296bhp and 280lb ft of torque to all four wheels for a 4.9sec 0-62mph time and a 155mph top speed. 
> 2019 Volkswagen Golf R review - the art of having your cake and eating it too
The Mk8 R is just around the corner, but the current iteration would have set you back around £30,000 when new. Despite this, you can be the proud owner of this car up for a somewhat ridiculous £13,500. And yes, there's a catch - a readout of 125,000 miles on the odometer. 
Don't scroll on just yet, though, as through modern advancements in technology and proper maintenance, such a readout might not be as much of an issue as you might think. We'd probably advise you view the car in person and check it out thoroughly, mind you… 
Vauxhall VXR8 (2009)
£19,495
Holden is no longer for this world, with it having met its end in 2020 after over 160 years of operations. The UK never received huge numbers of cars from the Australian marque, but the ones we did were rather good. Rebadged as a Vauxhall for the UK market, the Holden-derived VXR8 went up against Affalterbach's C63, shoehorning a 6.2-litre V8 into a four-door family saloon.
Some 419bhp and 405lb ft of torque help it reach 62mph from standstill in 5.0sec, with top speed coming at 155mph. This red 2009 example has covered 36,600 miles in its 11-year existence, comes with a full service history, an upgraded exhaust system, and can be yours for under £20,000.
Bentley Flying Spur (2014)
£54,995
The Bentley Mulsanne has been axed for 2020, with the all-new Flying Spur taking its place. With prices starting at £163,800, though, and climbing rapidly from there should you opt for any extras, it's a machine not many of us can consider. Take a trip back to 2014, however, and you can find the same model with plenty of optional extras, for not much more than the price of a new Mercedes-AMG A45 S.
> 2020 Bentley Flying Spur review
Powered by a 616bhp, 6-litre twin-turbocharged W12, 0-62mph comes in 4.6sec, and top speed at an impressive 200mph. Boasting a full service history, a quilted Ivory leather interior, the rear seat entertainment system, and much more, this 45,634-mile car can be yours for £54,995.
McLaren 720S (2017)
£144,950
The 720S is the supercar of the moment, with levels of performance only seven-figure hypercars could offer not too long ago, a striking design (if perhaps a little divisive) and not an ounce of electrification in sight. It might not quite offer the thrill of naturally aspirated supercars of years gone by, but its twin-turbocharged 4-litre V8 sends a quoted 710bhp and 568lb ft of torque to the rear wheels (though we think even this is a little understated…). Zero to 62mph comes in 2.9sec, with top speed at 212mph.
> New McLaren 720S 2017 review - the Super Series gets bigger, faster and more powerful
Despite its near-£210,000 starting price, after only 2317 miles, this Saros Blue Launch Edition example can be yours for less than the price of a new 570S. It doesn't come without plenty of extras, either, as it's fitted with the £3540 12-speaker Bowers & Wilkins sound system, £4080 'Elite' paintwork, the near-£4000 'Visible Monocage' option, and more.
McLaren 675LT (2016)
£186,000
Woking's latest Long Tail model has just been uncovered, in the form of the 720S-derived 765LT. Switch the six and the seven, however, and you have yourself in the 675LT, the first of McLaren's modern generation Long Tail models. Launched in 2015, the 675LT turned the 650S up a notch, lowering weight, raising power and tuning its chassis for the track.  
> New 2020 McLaren 765LT has Ferrari 488 Pista in its sights
Powered by the brand's 3.8-litre twin-turbocharged V8, it produces 666bhp and 516lb ft of torque, for a 0-62mph sprint of 2.9sec and a 205mph top speed. As you'd imagine, being a limited-run McLaren, it didn't come cheap - prices started at £259,000 without options. Four years and 4200 miles later, however, it can be yours for just £186,000. 
BMW M5 (2018)
£57,250
There's yet to be a bad generation of M5, with all providing the performance and luxury we yearn for. The F90 generation uses a 4.4-litre twin-turbocharged V8, pushing 592bhp and 552lb ft of torque to all four wheels – a first for the supersaloon. Zero to 62mph comes in 3.4sec, and top speed at 155mph.
> BMW M5 Competition v Mercedes-AMG E63 S - 600bhp supersaloons go head-to-head 
This two-year-old, 22,000-mile example is finished in a tasteful deep metallic silver, with black wheels and a matching black interior. Despite coming with the M Sport exhaust system, dynamic damper control, and an uprated Harmon Kardon sound system, this can be yours for almost half of its new price, just two years on.
Lexus RC F (2016)
£27,995
V8s are not long for this world, so now's your time to buy one... The Lexus RC F doesn't perform quite as well as its German rivals, but with one of the best power plants in the segment, we'd struggle to turn one down. Some 470bhp and 391lb ft of torque come from a 5-litre V8, free of forced induction, enough for a 4.5sec 0-62mph sprint and 167mph top speed.
> Lexus RC F review – V8 coupe changes little, but offers lots
This 35,752-mile example is finished in an understated silver shade, and comes with an upgraded ten-speaker sound system, limited-slip differential and 19-inch wheels – all for the price of a hot hatch.
Aston Martin V12 Vantage S Roadster (2014)
£84,940
The new Aston Martin Vantage Roadster has arrived, complete with the fastest powered folding top of any car currently on sale. Starting from over £120,000, however, it's rather a lot of money, especially when you take a glance at the used market.
> 2020 Aston Martin Vantage Roadster revealed
Enter, the V12 Vantage S Roadster. Arguably one of the best models to come from Gaydon, it takes the excellent Vantage drop-top formula, and shoehorns a 5.9-litre naturally aspirated V12 under the bonnet. Though the new car's AMG-derived 4-litre twin-turbo V8 provides a little more punch, nothing can beat the thrill of a 565bhp NA V12. Better still, this uber-tasteful Diavolo Red car with silver wheels can be yours for over £40,000 less than the 2020 model.
Maserati GranTurismo (2008)
£19,750
Lacking modern day tech it might be, but the Maserati GranTurismo boasts a set of skills many of its 2020 rivals are short of. Its Ferrari-derived 4.2-litre powerplant offers characteristics absent from today's GTs, largely thanks to its natural aspiration. 400bhp and 333lb ft of torque might seem meagre in today's world of 600bhp saloons, but the Modena coupe proves it's not all about numbers. 
> 2017 Maserati GranTurismo review - old-fashioned in the right way?
This 2008 model misses the improvements that came with the 4.7-litre S, but it still comes with the same glorious F136 unit derived from the likes of Ferrari's 360 Modena. This example has covered 67,000 miles since it rolled out of the Modena factory, comes equipped with a Bose sound system, 20" wheels and is finished in a tasteful blue exterior shade, with a cream interior. 
Lamborghini Aventador (2012)
£169,975
A welcome break from today's onslaught of SUVs and electrified machines, the Lamborghini Aventador takes an entirely different approach to the performance car brief. Powered by a naturally-aspirated, 6.5-litre V12, it sends 700bhp and 507lb ft of torque to all four wheels for a 2.9sec 0-62mph sprint and an impressive 217mph top speed. 
It's clear that useability and comfort weren't high on the agenda during its development, but the resulting driving experience is one we're yet to find anywhere else.
> New Lamborghini Sian – most powerful Lambo yet makes Frankfurt debut
Despite our appreciation for its downfalls, the used market doesn't appear to have taken kindly to them, and that's great news for the discerning buyer. The Aventador might still hold flagship status, even almost a decade on, but this launch spec, 7,900-mile Arancio Argos example can be yours for less than the price of a new Huracan.