The internet, with its vast collection of cars for sale of every discenable type and price range, is at once the casual car buyer's greatest friend and most hated enemy. On the one hand, the wealth of new and used car deals available means finding that elusive perfect next car at a great price becomes a real possibility. On the other hand, the endless scope for car enthusiasts to waste hours upon hours mulling over the latest listings poses the serious risk that they'll never actually get anything constructive done in their day-to-day lives. 
Thankfully, the evo team has come to the rescue. Once again we've diligently wasted hours of valuable time scouring the internet in search of the best sports and performance cars out there for sale at the moment. You can thank us later but for now, scroll down to explore the best car deals of the week…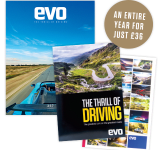 Subscribe to evo magazine
evo is 21 and to celebrate, we're returning to 1998 prices! Subscribe now to SAVE 39% on the shop price and get evo for its original cover price of £3.00 an issue, plus get a FREE gift worth £25!
As always, these stone-cold bargains were intermingled with others that are overpriced and/or potential money pits waiting to swallow your savings, so you need to keep your wits about you at all times. Should you really splash out on that Yaris GRMN? Is it wise to take the plunge on that Porsche Cayman R? Well, that's ultimately down to you, but we've taken steps to help you make the right decision.
> Browse our used buying guides here
Best used car deals of the week
Below are our best used car spots of the week...
Porsche Carrera GT (2005)
£POA 
Beginning as a motorsports project, Stuttgart's glorious naturally aspirated V10 first made an appearance in the Carrera GT concept of 2000. Four years on, and the first production cars were delivered to customers around the globe, with the power plant increased from 5.5 to 5.7 litres in capacity, putting 604bhp and 435lb ft of torque to the rear for a claimed 3.7sec 0-62mph time and 206mph top speed.
> Porsche Carrera GT – review, history, prices and specs
Though the vast majority rolled out of the factory gates in Guards Red, Fayence Yellow, Basalt Black, GT Silver or Seal Grey, 40 of the 1270 buyers were offered the Paint to Sample treatment – should you be unfamiliar, this allows buyers to have cars painted the same shade as, say, the lid of their favourite socks, should they desire. This particular example is one of those, sprayed in Midnight Blue Metallic with a highly tasteful Ascot Brown leather interior.
Though price is on application, current market figures lead us to believe that this relatively high-mileage car (12,650 miles) will sit somewhere around the £750k mark. With this being a rare PTS car, and prices on a steady upward trajectory, now could be the time to get your hands on a Carrera GT...
Aston Martin DBS (2010)
£69,900
Take a DB9, add some performance and an impressive stunt sequence in Casino Royale, and you have yourself a DBS. Though Aston Martin sold it as a hardcore, finely honed sports car, the DB9's underpinnings held it firmly in the GT category – not that that's a bad thing. The model's 5.9-litre V12 produces 510bhp and 420lb ft of torque for a 4.3sec 0-62mph time and a 191mph top speed.
> New Aston Martin DBS Superleggera review – a mighty V12 GT with supercar speed
Despite its low price, this Quantum Silver example has a reasonable 30,577 miles on the odometer, and even features the optional Bang & Olufsen sound system. Better still, should you take the plunge, you'll be able to pretend that you're an uber-cool secret service agent whilst popping to the shops.
Toyota Yaris GRMN (2019)
£19,495
Understandably, most won't be keen to jump into a Yaris GRMN following the recent launch of Toyota's latest performance hatch, but deliveries are still yet to begin, and it doesn't detract from the fact that the previous car is a rather fun machine. Boasting an unusual 1.8-litre supercharged power plant, the GRMN sends 209bhp and 184lb ft of torque to the front wheels through a limited-slip differential. A substantial revision to both the suspension and kerb weight also contribute to its strong performance.
> Toyota GR Yaris revealed in full – return of the homologation special
Though it was sold in very limited numbers and was priced from £26,295, this example can be in your hands for £19,495. A nice stopgap until you receive your new GR Yaris, perhaps?
Bentley Mulsanne (2015)
£79,990
The Bentley Mulsanne is not an awfully evo car, but with production of it, and its 60-year-old 6.75-litre V8 coming to a close, it only seemed right to include one in this piece. Though it has received plenty of revisions since, the 6.75-litre unit first made an appearance in the 1959 Bentley S2, but in this application produces 505bhp and 752lb ft of torque, good for a 5.1sec 0-62mph time and 184mph top speed.
> Bentley Mulsanne 6.75 Edition launched to mark end of production
A £230,000 starting price excludes all but the super-rich from the ultra-refined experience the Mulsanne offers from new, but just 22,248 miles later, this Midnight Green car can be yours for £79,990. This, or a bog-standard 2020 diesel S-class?
Lotus Elise 111S (2003)
£15,990
Even casual car fans will understand the appeal of a Lotus, but even though pricing isn't quite as steep as for two-seat offerings from Italy, today's Exige will still set you back from around £60,000 - the range-topping 430 even passes the £100,000 mark. Thankfully, the used car market's here to save the day again, offering up a handful of excellent examples from years gone by. 
The Series 2 Elise 111S rivalled Porsche's Boxster when it was launched in 2002, with its 156bhp, 129lb ft 1.8-litre 4cyl helping the model cover the 0-62mph sprint in only 5.1sec, reaching 100mph 2.7sec earlier than the standard car. This example has only 2 registered owners on its books, has covered just 39,669 miles in its lifetime, and can be yours for the price of a Volkswagen Up GTI. 
Porsche Cayman R (2012)
£39,995
The Porsche Cayman GT4 - two-time winner of eCoty, and one of the best driver's cars we've tested to this day. Up until its reveal in 2015, the Cayman R was the alternative, 55kg lighter and marginally more powerful than the standard car. Though not quite the 911 GT3 unit, its 3.4-litre NA flat-six produced a healthy 330bhp and 273lb ft of torque, good for a 4.6sec 0-62mph time and 175mph top speed. 
This example is not finished in the traditional Cayman R Peridot green, but instead, a classy, understated silver shade, complete with contrasting black wheels. Just 27,000 miles have been covered since it left the factory 8 years ago, and it could be in your garage for less than the price of a new Mercedes-AMG A45. 
BMW M3 CSL (2004)
£67,990
We won't turn down an M3 of any generation, but you'll struggle to find anyone who doesn't believe the E46 is the best of the bunch, offering as it does the raw, driver-machine connection of its elders, but with a dash of the refinement and capability of more modern machines – and, of course, no turbochargers. The ultra-rare CSL took the formula up another notch, bringing more power, less weight and further-honed handling.
Under the bonnet is a fettled version of the standard car's 3.2-litre naturally aspirated in-line six, putting 355bhp and 273lb ft of torque to the rear wheels for a claimed 4.8sec 0-62mph time and 155mph top speed. This particular example is finished in the desirable silver shade – 316 of the 422 units that made it to the UK were silver – drawing the eye to its carbonfibre roof.
Now, it's not awfully cheap, but it's a price that's justified in our eyes, and we can't see the rate of appreciation slowing down any time soon.
Jaguar XJ220 (1991)
£399,995
The XJ220 sat amongst the likes of Ferrari's F40 and Bugatti's EB110 as a no-expenses-spared turbocharged, flagship supercar. Of course, it also had a (somewhat sour) relationship with the legendary McLaren F1, the Woking hypercar having snatched the title of world's fastest production car from under its wheels. 
Should you enjoy a spot of auction ogling from time-to-time, you'll be aware of the incomprehensible sums affluent bidders will cough up for an F1. Although it holds a number of desirable accolades to its name, its current prices only make the XJ220 look like an incredible deal. Dramatic '90s supercar styling and an equally-'90s turbocharged powertrain can all be yours for the price of a factory respray for the McLaren F1. 
Porsche 911 Turbo S (991, 2014)
£79,850
Though all-wheel-drive, turbochargers and a PDK gearbox in a 911 are the stuff of nightmares for purists, there's no denying that the 911 Turbo boasts impressive figures. A 3.8-litre turbocharged flat-six produces 572bhp and 553lb ft of torque, for a standstill to 62mph sprint of 2.9sec and a top speed of 205mph - it's also worth considering that Porsche is known to be somewhat conservative with these figures...
Sitting a few thousand Pounds under the starting price of the base-level 992 Carrera, and at almost half its original list price, this 41,000-mile Turbo S represents excellent value for money. Finished in GT Silver with black leather, and with the Turbo-specific centre lock diamond cut wheels, it's not short on options, either. 
Lexus LC 500 (2017)
£50,990
We're rather fond of the LC 500 at evo, largely thanks to its glorious naturally aspirated power plant. The 5-litre V8 puts 470bhp and 398lb ft of torque to the rear wheels, creating an increasingly rare orchestra of NA eight-cylinder intake and exhaust sound in the process.
> Lexus LC500 Convertible takes GT formula open-air
With only 11,900 miles since it left the factory, this example has lost around £25,000 in value, making it an excellent used buy. Twenty-one-inch wheels, an uprated Mark Levinson sound system, a carbonfibre roof and deep metallic Sonic Red paintwork all feature.
Alpina B3 (1999, E46)
£14,980
Alpina's latest B3 saloon has just been uncovered, so it only seemed right to include this E46 variant from 1999 in this week's deals. Under the bonnet is the same straight-six you'll find in an E46 330i, pumped up to 300bhp and 266lb ft of torque – 0-62mph comes in a respectable 6.3sec and top speed at 164mph.
This example is finished in Alpina Green Metallic, a near-£2000 option, with a contrasting Montana leather interior. As with all B3s, the Alpina bodykit sets it apart from a standard car, alongside the 19-inch wheels. Only 43,000 miles have been covered from new, and with just a single former keeper on the books, it sounds like an excellent buy to us.
Mercedes-Benz CLK 63 AMG Black Series (2008)
£99,990
Black Series. A name we haven't seen attached to an Affalterbach machine in quite some time, and one you very rarely see out on our roads. Turning an already-mad AMG up another notch is what the Black Series division is about, adding a widebody kit, exclusive, ball-polished wheels and a whole host of performance-enhancing modifications, in the CLK's case. Peak power of 507bhp comes from a 6.2-litre NA V8, providing the 0-62mph sprint in 4.3sec and a 188mph top speed.
Unfortunately, Black Series prices are rather high in 2019, putting this CLK 63 just £10 under the £100,000 mark. This example is a rather good one, however, making it a prime candidate for an investment car. Only 14,000 miles have been covered in its 11-year life, and it has maintained a full Mercedes service history, including a recent service at Mercedes-Benz World.
Porsche 911 GT3 (997, 2010)
£82,980
Stuttgart's GT3 was a success right from its inception in 1999. Though three generations of cars have only improved on one another, the second-generation 997 car is still a force to be reckoned with in 2019. Granted, Gen 1 997s look a tad dated, but punt for a Gen 2 equipped with centre-lock lightweight wheels, and you have yourself an excellent buy.
This example is just that, a Gen 2 with motorsport-inspired centre-lock wheels, the 3.8-litre NA flat-six, Carrera White paint, front axle lift and much more. At just over £80,000, don't think this is an undesirable example, either, as it has a respectable 35,570 miles on the odometer and a manual gearbox.