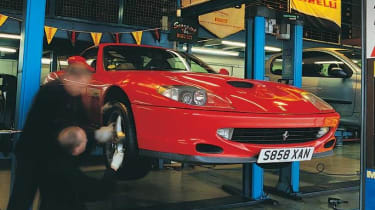 Tyres weren't an immediate worry when the 550 arrived last December; a set of new 295/35Y18 Pirelli Rossos had just been fitted on the rear, while the stack of invoices that came with the car showed the fronts had been replaced 2000 miles earlier. So it didn't occur to me that they might be to blame when the 550 started to take a real dislike to lorry ruts and chunky white-line markings. It was only on a seriously rainy journey into the office one morning, when the 550 transformed itself into a hedge-seeking missile at every opportunity, that I knew something was seriously amiss.
OK, I have to admit I've been caning my beloved Ferrari around the lanes over the last few months, but discovering I had a set of completely knackered tyres (sporting just an imprint of a long-lost tread pattern barely visible to a forensic scientist) after just 7000 miles came as a bit of a shock.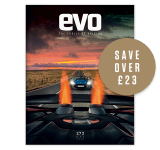 Subscribe to evo magazine
Subscribe today to have every issue of evo delivered straight to you. You'll SAVE 39% on the shop price, and get evo for its original cover price for a whole year!
I'd heard good things about the Pirelli Performance Centre in Cambridge, so I booked the 550 in to have a new set of Pirelli P Zero Rossos fitted and an electronic alignment check, just to be sure the tyre wear was mainly down to driver enthusiasm and not to wonky toe-in settings.
From the outside the PPC looks just like a normal tyre fitter; it's only once you step inside that you start to notice a standard of cleanliness that wouldn't go amiss in some of our hospitals right now. I felt slightly guilty for not having cleaned the 550, but fortunately nothing was said.
First job was the alignment check and a report on the wear patterns of the old tyres. Wear turned out to be pretty even across the tread but the fronts were suffering from excessive toe-in (-3.0mm). So, with the steering wheel clamped to the straight- ahead position, the steering rods were soon adjusted to the correct settings (-1.5mm) and the car was ready to come off the chassis rig and move to another lift to have the enormous tyres fitted.
With the rims smothered in lubricant, the old tyres were peeled off and the new tyres slipped on just as effortlessly in their place. Pressures were checked on the calibrated air gauges before the wheels were balanced and refitted. All carried out in an eerie silence thanks to the banning of air-guns for refitting wheels; the wheel nuts only get tightened via hand-operated torque-wrenches.
Even to an old sceptic like me there's a distinct difference in the level of professionalism on show here that's well worth seeking out. The bill for this five-star treatment came to £871.26, which was made up of £205 each for the rears, £150 each for the fronts, £31.50p for the alignment check plus the usual dollop of VAT on top.
What's really scary is, I now know tyres are costing me a hefty 12p a mile, meaning that every time I refuel the 550 (after around 300-320 miles) I should be putting an additional £40 (or roughly half the fuel costs) in my back pocket just for the rubber I've used up since my last visit to a petrol station. And if I carry on covering this many miles every month that'll be £4000 worth of rubber a year!
Whoever said the best things in life are free was clearly lying.
Find used Ferrari 550's for sale on the Classic and Performance Car site here.
Running Costs
| | |
| --- | --- |
| Date acquired | December 2004 |
| Total mileage | 25,280 |
| Costs this month | £871.26 (tyres) |
| Mileage this month | 2078 |
| MPG this month | 16.2mpg |