The 'Fried Egg' (as it has become known) has been demonstrating its practical side this month. After a frantic phone call from a member of staff in one of the Subway restaurants I jointly run, LP07 was hastily pressed into use to cover for the regular sandwich van that had expired in a cloud of steam. What the Leeds-based business customers thought when a 200-grand Lambo turned up to drop off their Meatball Marinaras I'm not quite sure, but it can't have been all bad. The week after, faxed orders were up a third, complete with various postscripts, including 'Can I have a job as a delivery driver?' However, 'Can you bring that DeLorean again?' did have me scratching my head. On the subject of driving the LP640 (or, for that matter, my 'old' 6.2 Murciélago), we've had a few readers contact the evo office recently to enquire about the driving experience days I've mentioned in previous reports. For the benefit of those who are interested, they take place at Elvington near York, and you can find more info at www.6thgearexperience.com. If you decide to make a booking, mention evo to receive 20 per cent off the published prices. We might even throw in a hot lap in a racing Caterham too.
Last month you may remember that both I and LP07's co-owner got off to a shaky start with the new Murciélago. I mentioned then that, although it wasn't possible to explore its full abilities (being new it was restricted to 4500rpm), the niggling electrical maladies weren't quite the introduction I was hoping for. Since the onboard computer recently showed a recorded 249mph on the M62, we're obviously not quite out of the woods with those issues yet! But with LP07 in otherwise fine fettle, it was booked at the aforementioned Elvington to perform 100 or so 'hot laps' of the coned-out circuit. With no rev limit restriction, I was able to give this daddy of all Lambos some proper punishment for the first time – and what a jaw-dropping experience it turned out to be. Let's face it, the 6.2 Murciélago's 570bhp could arguably be described as more than enough. With another 60bhp, the LP640 delivers such a violent kick in the killer third cog that it had me grinning like an imbecile. Well, until I mashed the middle pedal, that is. Fancy a dislocated shoulder? There's probably few more enjoyable ways to get one… LP07 hasn't even got the hugely expensive ceramic brakes option, but its brakes are a total and utter contrast to the 6.2's panic-inducing set-up. Finally, there's the icing on this pearl white cake. Agility. Oh, and stability. Spades of it. Before the LP640, no road-going Murciélago could ever masquerade as a proper track car. Weighing almost 1.7 tons, my old orange Lambo would gently roll through the twisties on a circuit like a motorcruiser. Enjoyable? Of course! But a Gallardo would eat it alive. Yet the LP640… It's not even been to Weight Watchers – in fact it's even gained a few extra pounds – but it's still managed to acquire that well-balanced 'planted' feeling only its V10 brother possessed until now. Yep, it seems the big Lambo is furiously bent on punishing me for daring to doubt it. I'm not the best of passengers at high speed, as Bovingdon will testify, but this is the first time I've turned green in the pilot's seat…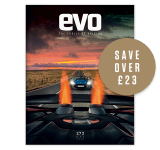 Subscribe to evo magazine
Subscribe today to have every issue of evo delivered straight to you. You'll SAVE 39% on the shop price, and get evo for its original cover price for a whole year!
Running Costs
| | |
| --- | --- |
| Date acquired | August 2007 |
| Total mileage | 4002 |
| Costs this month | £0 |
| Mileage this month | 758 |
| MPG this month | 9.0 |