Evo regularly remembers the cars that won its Car of the Year gong and gently prods them to see if they've stood the test of time. But what about the opposite end of the scale? What about the stuff that came stone cold last? Were these hapless losers as disappointing and dismal as their poor scores might imply? Well, with the help of evo founding fathers John Barker and Richard Meaden, plus hirsute whippersnapper Henry Catchpole, we're going to look back at 21 years of last-place entrants and ask, were they really so bad?
We begin with 1998's lowest ranker, the Alfa Romeo GTV V6, which Barker is quick to defend. 'It's often said there are no losers in eCoty because the chosen cars are the cream of that year's crop,' he explains. 'I was at Car magazine when the GTV was launched and said it was a car Ferrari could have made. It's a pity it's not more cherished. Looks stunning, sounds fantastic. Underrated and undervalued.' And Meaden clearly agrees: 'Generally speaking I think the more, er, "characterful" marques tend to struggle with eCoty because judges always feel a weight of responsibility to balance desirability against objectivity. But I'd rather like a GTV V6.'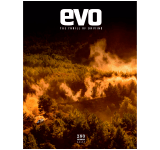 Subscribe to evo magazine
Subscribe today to have every issue of evo delivered straight to you. You'll SAVE 39% on the shop price, and get evo for its original cover price for a whole year!
Before the pair of them get lost browsing late '90s Alfas on AutoTrader, it's time to dampen their ardour with one of the contest's strangest inclusions, and flat-last loser of '99, the Fiat Punto Sporting. 'What were we thinking?' sighs Barker. 'It did have six gears,' Meaden suggests helpfully, before agreeing with Barker's assertion that it was the 'token affordable car' of the line-up but also, damningly, 'a mistake'. 
On, then, to the 2000 tail-ender, which was the Alfa 147. The test car had two problems, one being the Selespeed paddleshift 'box generally, and the other being the Selespeed paddleshift 'box in its specific role as 'the part of the car that stopped working'. No Alfa love here as Barker instantly declares it 'rightfully last'.
2001 brought a brighter eCoty, not least because it took place in Italy, and the lowest scoring car was the perfectly agreeable Mercedes SL500, a nice car on any other day but, in Meaden's words, 'too soft' to hold its own against the Zonda, E46 M3, Murciélago et al. 'I admired the SL500,' adds Barker, evenly, 'but it didn't become an evo car until AMG turned it into the SL55.'
The following year eCoty returned to its natural, and naturally damp, habitat of north Wales and the tail-end Charlie was the divisive Ford Focus RS. In hindsight, was that fair? According to Barker, it depends on the Focus RS in question. Some were a handful thanks to massive on-boost torque-steer that made them change lanes ('handy for overtaking' he notes with a wry tone). Others were extremely well mannered. The eCoty car was one of the badly behaved ones and, in a stellar field that included the NSX-R, 996 C4S and Elise 111S, it had last place coming to it.  
On to 2003, where things went a bit off the rails. 'We included a Cayenne in eCoty?' splutters John, who had clearly blocked this from his mind. 'Was it to ensure the arrival of that year's stuffed brown envelope from Zuffenhausen?' he adds, tongue almost bursting through cheek. Grabbing the offending issue refreshes his memory, though it does little to warm him to this unusual, and poor scoring, entrant. 'There are nearly as many shots of Italian police cars as there are of the Cayenne,' he mutters, noting the photos in the feature. 'In fact, I think a blue and white Fiat Tempra was keeping the Cayenne out of the top ten for a while.'
The Audi RS6 Plus of 2004 feels less deserving of last place, though, surely? 'Classic fast Audi,' reckons Meaden. 'A car you'd love to live with but not exciting, tactile or sexy enough to score highly in the company of truly exotic cars.' Barker, however, is less charitable. 'Deserved last place,' he says flatly. 'When your one trick is taking off at immense speed, people get bored.'
On we go to the bottom of the barrel from 2005, which comes with a back story. 'The TVR Sagaris was sourced in France and wasn't prepared to, ahem, Blackpool standards,' explains Barker. 'It was a bit of a Friday afternoon car,' agrees Meaden. 'I always think back on TVRs as being true evo heartland cars, and the Sagaris was about as good as they got. It wouldn't have won, but last place feels wrong to me. Trouble is we could only judge the car we had on the test.' Barker agrees, noting that today the Sagaris is 'rightly one of the most sought-after TVRs'. We're into the Catchpole era now and Henry has another memory of this eCoty, before the rough-running Sagaris showed up on the scene. 'I think the real loser was the Mark 3 MX-5 from the first round in Scotland,' he says. John agrees. 'It felt awful,' he recalls. 'Like the front and rear ends were developed independently. To this day I still advise people to buy the Mark 3 with the smile, not the early cyberman version.'
Long-time readers will remember that evo was about the only bit of the British media that didn't go cock-a-hoop for the original Aston Martin DB9, and the results table from eCoty 2006 shows that the addition of the Sports Pack couldn't stop it from coming last. Was that fair? Meaden takes a charitable view: 'I suspect a manual DB9 Sports Pack would be a fabulous thing now.' Barker, not so much. 'The DB9? I've never fallen for it,' he says.
Another Aston, the DBS, took the wooden spoon the following year. 'It was driven through the night from Gaydon, this time to central France, and lo, it arrived in time to claim its place at the bottom of the results table again,' remembers John, adding, 'It was utterly outclassed by a field that is perhaps still the very best we've assembled.' Catchpole is a little more generous in his assessment but agrees that, even at the time, it felt 'old fashioned' and had 'a slightly disturbing gearknob'. 'It just didn't feel right,' agrees Meaden, but he's not talking about the knob, more the entire chassis. 'It transpired there was some issue with the dampers or something.' Still, not much love today for the Aston we'll remember as 'that one Bond trashed in that weird crash'.
Backing up Dickie's assertion that 'Astons always seem to underperform at eCoty', yet another one slumped into the bottom slot in 2008, this time the 4.7-litre V8 Vantage. Not a bad car by any means. You might say a better car than the Maserati GranTurismo S and Alfa 8C that finished above it, and indeed that was the feeling amongst many of the judges. Catchpole reckons it was evo gaffer Harry Metcalfe and his contrary determination to give strong scores to the Italian duo that saved them from the fag-end position, thereby condemning the poor Aston. Though obviously he didn't pick a fight with the boss about this at the time.
For eCoty 2009 just one point covered the bottom four, but it was the Artega GT – remember that? – which took last place, a victim of two problems. The first was the presence of the Lotus Evora, which the contemporary verdict concluded did 'the same things even better'. The second was its own electrical system, which was 'playing up'. Our evo old hands are distracted, however, by the car in seventh place out of 13, which is the Aston Martin V12 Vantage. After previous Aston showings at least it's not last, but there's a feeling it should have been higher. 'Plenty of us thought that it should have made the final five,' explains Catchpole, 'but Simi [long-standing evo contributor John Simister] hated it and effectively kiboshed any chance it had. Perhaps he had looked at the previous three years and thought it was the done thing to give an Aston a kicking.'
In 2010 it was glum news for the Ford Focus RS500, which bagged the bottom slot even though, as Barker says, 'it wasn't a bad car, just one that was ranged against lighter, more talented, more exotic opposition'. Catchpole goes even further, calling it 'cracking' and suggesting that its low rating was because it was 'a bit butch and aggressive for some of the judges'. Ooh, get him.
Full rankings disappeared for 2011, evaporating in the Portuguese sunshine, and this left a cluster of unclassified low scorers at the bum end of proceedings, including the BMW M5 (the first turbocharged one), Ferrari FF, Renault Sport Mégane 265 Trophy, Jaguar XKR-S, Aston Martin V8 Vantage S, Mercedes C63 AMG, and the Gallardo Performante Spyder, which was omitted from scoring altogether because its suspension turned out to have been damaged in transit from Italy. Also in that unordered mass of poor performers was another Lamborghini, the Aventador. Catchpole offers up an explanation for its disappointing showing that year: 'The roads around Portimão are often narrow. The Aventador is not narrow,' he says. 'It was also the first time that we all got to experience the hotline to a chiropractor that is the gearbox's Corsa mode.'
The following year saw four finalists unranked and, since all the actual scores have long-since been forgotten, let's call them joint losers. They were the Alpina B3 GT3, the Mercedes C63 AMG Black Series, the Morgan 3 Wheeler and, most contentiously at the time, the Toyota GT86. 'Every other magazine was heaping praise on the GT86 and evo was the outlier,' says Catchpole. 'I still stand by this decision, though. The recipe was good but the ingredients had been microwaved instead of put in the oven. Or something.'  
Complete rankings returned for 2013, perhaps specifically to make sure the disappointing Alfa 4C was slap bang last. A regrettable decision? Not according to Richard Meaden. 'It had a horrible engine mated to a crappy gearbox. Surely few cars have offered so much promise then delivered such profound disappointment.' Catchpole is in agreement: 'Absolutely the right decision. I tried my best to see the good in it, but there was no getting away from the terrible steering, curious handling and boosty engine. 
instead of fried.' Henry realises his last two analogies are making people hungry and tries to blame them on watching too many TV cookery shows.
We move swiftly on to 2014 when tenth and final place was occupied by the perfectly pleasant Audi S1. 'Great name,' says John, 'but it was overshadowed completely by the Golf R.' The VW went on to bag fourth slot, a remarkable showing for a hot hatch, though Catchpole thinks there were in fact nine losers that year. 'Everything was last behind the 458 Speciale,' he says firmly.  
In 2015 another hot hatch, the Peugeot 208 GTi by Peugeot Sport, took worst place, and for John Barker this was fully deserved. 'It didn't herald the renaissance of the brand as a maker of fine hot hatches,' he insists. 'Cramped footwell, average dynamics and gearshift, moderate performance. Very ordinary. I have no desire to drive one ever again.' Yowch. But wait, is this a contra position coming from Catchpole? 'It didn't do anything wrong as far as I can remember,' he says. There's a pause. 'Actually, it might have been terrible. I've just remembered, I was away on honeymoon for this one.'
Henry was back in action for 2016, which he describes as 'perhaps the greatest strength-in-depth of any eCoty'. And was the placing of the BMW M2 as bottom-end backstop a fair reflection of its talents? 'It doesn't deserve to be lumped into the same category as some of the other last-place cars,' he cautions, 'but I think we were vindicated in putting it bottom by the fact that the facelifted M2 and then the M2 Competition both took increasing steps to fix the suspension that was the original's undoing.' Barker missed this eCoty but has a wise observation nonetheless: 'It's annoying that M2s, M3s and M4s are such a minefield. They're traps for the unwary who don't know which generation of car they should get, whether it must be the Competition version or have a certain suspension specification or whatever.'
The only loser in 2017 was the publisher who insisted on changing the eCoty format, to widespread disdain, and funnily enough he no longer works for evo, so let's move straight on to 2018 when the deeply disappointing Renault Mégane RS became the year's vote stranger. 'How the mighty are fallen,' says John ruefully. 'Didn't tick any boxes for me. Looked and felt big, plain steering, poor gearshift, average ride and handling. Very forgettable. Shouldn't have been there.' Meaden, however, has a different perspective. 'I felt sad that the Mégane came last, but the 600LT, Pista and GT2 RS were awesome, the Alpine was exceptional, the Fiesta ST was better resolved and the Up was more fun and half the price,' he says before admitting that he subsequently warmed to the Mégane after living with one as a long-termer, pointing out that slow-burn appeal doesn't factor in evo Car of the Year, which is 'intense'.
He's absolutely right. Car of the Year is full-on. Car of the Year takes no prisoners. The harsh reality is that every year something has to come last, whether it's talented, polarising, disappointing or just the Fiat Punto Sporting.