Morgan has clearly undergone something of an epiphany with its 3 Wheeler. What that modern iteration of the marque's tri-tyred classic has shown is that there is a real appetite out on the roads for a bit of discomfort. In a world where most manufacturers are piling on the creature comforts and attempting to cocoon occupants ever further from the messy business of driving, Morgan has realised that there are plenty of people who actually relish a bit of interaction with the elements. I certainly do.
Hair swept back, styled only by the slipstream. Hearing muted by a hurricane of white noise. Eyes squinting slightly in an attempt to prevent eyelids from flapping in the onrushing breeze. It's invigorating and life-affirming. We laugh at dogs when they stick their heads out of car windows, but perhaps they're on to something.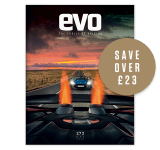 Subscribe to evo magazine
Subscribe today to have every issue of evo delivered straight to you. You'll SAVE 39% on the shop price, and get evo for its original cover price for a whole year!
Anyway, the aero-screen sensations of the M3W have been translated to the Plus 8 to create the new Plus 8 Speedster and I really rather like it. The Plus 8, in case you need a quick refresh, is essentially Morgan's modern, bonded-and-riveted aluminium chassis (as found under the Aero range of cars) but clad in a classic shape body. Nestling beneath the louvres is a 4.8-litre BMW V8, putting out 362bhp and 370lb ft of torque. Propelling the Plus 8's 1100kg, that's more than enough, but by deleting such things as the hood, bumpers, side windows and windscreen, Morgan reckons it's shaved off another 100kg for the Speedster…
All this has been done to celebrate a century of manufacturing in the charmingly ragtag collection of buildings at Pickersleigh Road in Malvern, the home of the Morgan Motor Company. We're quite some way from Malvern today, as the car you can see in the photos belongs to Bell and Colvill in Surrey. The light pastel green colour is one that I've only ever seen on a Jaguar C-type but I think it suits the car. In fact the whole pared-back effect is absolutely stunning.
In a pricing strategy that would shock Porsche, the stripped-out Speedster actually costs £15k less than a standard Plus 8, but the options on this particular car ratchet the price back up a bit. The extras list begins with the side-exit exhausts (£1680); then there are the striking 18in Speedster alloys, designed to look like steel wheels (£1920), the bonnet strap is £156 and the six-speed automatic gearbox that a surprising number of customers spec is a £3000 addition (a six-speed manual is standard).
The door looks low enough to swing a leg over and get in without opening it, but out of respect for the driver's seat I reach inside and click it open (the lack of exterior door handles adds to the clean look of the car). The seats are mounted surprisingly high, which only adds to the feeling of exposure.
Twist the key, thumb the starter button and the V8 starts with a warm, mellow rumble that permeates up from the side-exit exhausts directly below you. The auto has quite an aggressive creep so as soon as you come off the brake the Speedster leaps eagerly forward.
The highways and byways of Surrey are an interesting mix, with bumpy, leafy lanes for the most part but also some smoother, faster sections if you know where to look. I head first towards the North Downs and some roads I know reasonably well, having grown up not so very far away. Pottering along the lanes at a gentle pace, you already feel you're going plenty fast enough thanks to the lack of a windscreen. The two aero bubbles on the bonnet are so low and aggressively raked that you really have to hunker down unnaturally low if you're going to gain any benefit from them, and the engine noise disappears in the wind above about 45mph. You really do feel very exposed, too, something that seems to become even more apparent when you stop at traffic lights or crawl through town – there's simply nothing between you and the 'outside' world.
The wonderfully swooping bonnet looks even longer than usual, stretching out towards the horizon and arriving at corners several seconds before the rest of the car. The Speedster really does feel lighter and more instantaneous in its reactions than a regular Plus 8, too. Slicing neatly along the road, only gentle inputs are needed; up the pace, show some commitment and the alacrity with which the nose dives towards an apex is actually quite surprising. The grip ebbs as you add more lock, so the way to drive it is still to steer it on the throttle from early in the corner. The lightly treaded Yokohama Neova rubber might look intimidating, but it actually gives very good feedback through the steering and, if you get the rear sliding, it has a nice progression as it moves around underneath you.
It's clear fairly quickly that the Speedster prefers the more groomed pistes rather than the nobbly back-roads, although the dampers do get into their stride a little more as you pick up the pace. Nonetheless, bigger bumps frequently see the rear axle hopping and skipping underneath you, which is exciting but also a little alarming.
The ZF auto 'box is actually not the tiresome companion that you might imagine. Yes, its presence feels a little like removing the stairs from Downton Abbey and installing an escalator in their stead, but shifts are smooth and there's so much torque propelling so little weight that you could happily be in any one of about three gears for most corners and not feel as though anything was out of kilter. What aren't so great are the optional paddles. They weren't fitted to this car, but Jethro Bovingdon drove another example on track and said that a tweak of an index finger took forever to get a response. If you want to shift the auto 'box yourself, it's much better to push and pull the big knurled shifter on the transmission tunnel. Or you could just spec a manual 'box, which really would suit the car much better.
Jethro's other impressions from driving the Speedster on track were by and large extremely positive. Despite the considerable width of the car, something that's only accentuated by the deletion of almost anything protruding above waist height, he noted that it still feels quite narrow to drive. He also noted that it's keen to oversteer and fun when it does. His car had the relatively discreet optional roll-hoops behind the seats and, much as I love the beautifully sleek look of the Speedster (someone actually suggested they should go the whole hog and create an über-streamlined Bonneville special, complete with spats), I think they're certainly a good idea if you're going anywhere near a track or just want to drive it fast, because you're fearfully exposed otherwise.
Pottering along the leafy lanes, it turns out that the colour of this particular Speedster isn't so rare after all. Not only is it basically a Surrey staple Farrow & Ball colour (Number 32, Cooking Apple Green, I'd venture) but when we pulled into the National Trust car park on Ranmore Common there was a converted Citroën H Van, painted an almost identical shade, serving coffee. Photo opportunities don't land in your lap much more easily.
So the Plus 8 Speedster really is extremely appealing. But then, speaking personally, I've always been a sucker for the sort of bracing motoring that harks back to an age when wheels were wire and moustaches bristled. What was surprising was how everyone else fell for it, too. Young Aston Parrott, our new staff photographer whose quiff it destroyed, possibly permanently – besotted. Jethro, the self-confessed loather of roadsters – smitten. With the ability to evoke those sort of reactions, it's no wonder Pickersleigh Road has been making cars for 100 years. Long may it continue.
| | |
| --- | --- |
| Engine | V8, 4799cc |
| Power | 362bhp @ 6300rpm |
| Torque | 370lb ft @ 3600rpm |
| Top speed (claimed) | 148mph |
| 0-62mph (claimed) | 4.2sec |
| MPG | 23.3 |
| On sale | Now |