The Citroën C5 Aircross is as focused a vehicle as the Porsche 911 GT3. That made you look, didn't it? But we stand by this statement, as where the GT3's focus on ultimate performance and driver interaction is enough to get any enthusiast a little hot under the collar, the new C5 Aircross has the same intense focus – just aimed in a rather different direction.
You might think the C5 Aircross is just another SUV, and you'd be right, but it appears that there are an awful lot of people buying them so it would seem foolish for Citroën not to react. But the C5 Aircross's unabashed focus on comfort and practicality, rather than aimlessly recycling synonyms for 'dynamic' or 'sporty', is refreshing in itself.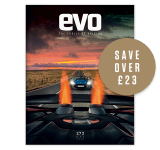 Subscribe to evo magazine
Subscribe today to have every issue of evo delivered straight to you. You'll SAVE 39% on the shop price, and get evo for its original cover price for a whole year!
> Click here for our more interesting review of the Porsche 911 GT3 .
The new C5 Aircross uses a combination of the usual PSA Group elements, including the same EMP2 platform that underpins the 3008 and new 508, and PSA's impressive engine range that boasts a certain flair that's missing from other SUVs in the class. Priced from £23,225, the C5 Aircross seems like good value too, but is it a good car?
Engine, performance and 0-60 time
The engine range is made up of a combination of three- and four-cylinder turbocharged petrol and diesels. Available in either 128 or 177bhp forms of both petrol and diesel models, excessive power is not the name of the game here, but all engines seem to fulfil the brief without too much trouble. 
The entry-level engine option is a 1.2-litre turbocharged three-cylinder, and its willing attitude is just as apparent here as in other PSA models which share this engine. It's connected exclusively to a six-speed manual, which although not offensive, is a little baggy and indirect. Despite the substantial size of the C5 Aircross, and its bulbous square nose, the engine's intrusion into the cabin is also not quite as hushed as you might imagine, grumbling when worked. It's efficient and despite a 0-62mph time of over ten seconds (10.5sec to be precise) rarely feels massively underpowered thanks to its heady torque curve. 
The bigger 1.6-litre turbocharged petrol unit, which is paired to a decent eight-speed automatic transmission, is more powerful, and feels it on the road, but such is the Aircross's laid-back disposition you rarely feel the need to exploit it. The 62mph mark arrives at a much more acceptable 8.5sec.
The diesels are less refined, and despite their extra torque don't feel any more grunty than their petrol siblings, although we did see upwards of 50mpg on the lesser-powered manual. All-wheel drive is not available, rather an optional 'grip control' function is integrated via a dash-mounted dial, adjusting the traction control, throttle mapping and gearbox shift points depending on the selected mode to help you exit the mildly damp field you'll inevitably find yourself stuck in with your front-wheel-drive SUV.
Technical details
The C5 Aircross's core function as a comfortable family car is as clear as day, with a long-legged feel to the suspension, and a hushed, relaxed cabin (aside from those sometimes intrusive engines). In fact, rescale the rough-and-tumble interior design to a larger size and fit a thirsty V8 and the interior ambiance could almost be that of an American pickup – in a good way – with a simple, horizontal dash, light control weights and that extremely wide centre console. Just ignore the thrummy three-pot under the 'hood'.
Back in the UK, the main part of the C5 Aircross's technical armour is the fitment of the same hydraulic bump stop technology as found in the new C4 Cactus. The idea is to slip a second dampener between the spring and its solid bump stop, allowing engineers to raise the spring rate without worry of crashing into them. You can't so much feel them in action, rather just marvel at the C5's ability to smother rutted and rough tarmac with as much finesse as something much larger.
Despite the C5 Aircross's substantial size, weight is surprisingly low(ish) at 1440kg – a positive side effect of the EMP2 platform and its simple torsion beam rear suspension. Citroën will be launching a plug-in hybrid variant of the Aircross in early 2020, sharing its hardware with incoming Peugeot plug-in models too.
What's it like to drive?
It can't be said enough: this is no sports car, sporting SUV or 'dynamic exploration vehicle', but a comfy, distinctive and clever family car. The ride quality does indeed live up to this comfort bias, smothering rough and uneven road surfaces with impressive isolation. Speed up and road undulations can catch the body off guard, but it's never wayward, and it gathers itself back up. There are little-to-no secondary body movements after the initial impact – usually a sign of impressive damper calibration. 
What we would suggest is avoiding the top-spec model – the higher price tag begins to unravel the C5 Aircross's value proposition and the larger 19-inch alloy wheels introduce a brittle edge to the ride quality that undoes the rest of the package.
The interior is pleasingly distinctive and utilitarian. It may lack the pizzazz of a Peugeot 3008, but still trounces many other rivals for ambiance and clever design. The wide, high centre console is a nice addition, but (when fitted) the automatic transmission selector feels like it's in the next county as PSA decided not to move it over for right-hand-drive markets.
Another curious oversight – especially as the C5 Aircross now takes a position as Citroën's flagship model – is the lack of LED or Xenon headlights on any model, even as an option. This may seem like a fussy point to make, but jump from a car with bright, modern LED lights to one with traditional halogen units and it stops being an inconvenience and becomes a hazard.
Price and rivals
Starting from £23,225, the C5 Aircross is best when specced simply and with smaller engines. The extra performance found in higher-priced models is not required, and knocks back its value proposition when you're looking at closer to £30k for this type of car. 
Being late to the SUV party means it enters a very crowded market place. From inside its own camp, the slightly smaller Peugeot 3008 undercuts it marginally (£22,870), the Kia Sportage is cheaper still, starting at £19,195, while a Volkswagen Tiguan sits just higher on the pricing scale (£23,485) along with the chip on its shoulder, but will serve you better come resale time.
> Click here for our review of the Hyundai i30N
A 247bhp Hyundai i30 N is priced equivalently to a mid-spec 128bhp three-cylinder manual C5 Aircross in 'Flair' trim, but the Hyundai does admittedly give up some interior and cargo space, and you might have to deal with a slightly firmer ride. But we'll leave it up to you to figure out which we'd rather put our cash towards.