The first half of 2018 has been full of exciting new metal, from Alpine impressing us on its first rota of UK tests, right the way through to our imminent drive of Ferrari's new 488 Pista. But as the second half of the year approaches, there are still plenty of new performance cars on the horizon to look forward to.
Among them are some enticing new Porsches, both of the rear and mid-engined variety that have whet our appetites like few others. What are we expecting? Porsche's 718 Cayman and Boxster twins should finally receive the engine their sparkling chassis have been crying out for in the new GT4 and Spyder. What should be the fabulous 4-litre flat-six borrowed from the 911 GT3, it'll likely be de-tuned, but should still deliver the response and soundtrack that consistently impress us everytime we step into a GT3. The other interesting Porsche will be a reimagining of the classic 911 Speedster, and should bring with it some of the GT3's elements to an open-top package.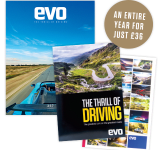 Subscribe to evo magazine
evo is 21 and to celebrate, we're returning to 1998 prices! Subscribe now to SAVE 39% on the shop price and get evo for its original cover price of £3.00 an issue, plus get a FREE gift worth £25!
> Click here for our evo Supertest
Lamborghini's updated Aventador will be in line for the hardcore SV treatment, gaining a J for 'Jota' along the way. Expect the same combination of outlandish styling, underpinned by an upgraded V12 engine with around 800bhp. Aston Martin's next-gen DBS Superleggera is also coming soon, itself boasting a power output of around 700bhp from its own V12 engine. Audi's facelifted R8 is on its way too, and although it won't look very different to the current model, we're intrigued by the potential for a new entry-level option.
Of course, there are plenty more fascinating new cars to talk about so keep scrolling down to find out what cars we are most looking forward to driving in 2018.
Alpine
A lot of hope and expectation has been riding on the narrow shoulders of the new Alpine A110, which marks the brand's return after decades of inactivity. We finally got behind the wheel at the international launch in France, and it didn't disappoint - and in issue 249 of evo Magazine you can read how it fared against the Porsche 718 Cayman S and Audi TT RS, too.
It's topped the list of anticipated cars for 2018 in the evo office since Renault announced the resurrection of its Alpine brand, despite the modest performance figures. Mounted amidships, its turbocharged 1.8-litre engine develops 249bhp and 236lb ft of torque, helping it sprint from 0 to 62mph in 4.5 seconds.
Aston Martin
Aston Martin has devled deeper into its recently formed Mercedes-Benz partnership with the new Vantage. The old atmospheric 4.7-litre V8 has been replaced by a smaller 4.0 V8 bi-turbo sourced from Mercedes-AMG (also found in the DB11), but early drives suggest it also offers a more focused driving experience than its predecessor. 
Priced from just over £120,000 the new Vantage is competing at a higher point in the market than the old car, but to compensate the performance has stepped up significantly too, putting the new Vantage in the firing line of supercar rivals like the Audi R8 V10 and Porsche 911 Turbo.
But the Vantage won't be all for 2018, as the all-new DBS Superleggera will also be be reaching dealerships, leading up to a massive 2019 when the Valkyrie will reach customers and production of the new DBX crossover begins.
Audi
Audi's gently updated R8 is likely not to look too dissimilar to the current model, but there are questions to be asked regarding what will power the mid-engined supercar. Without doubt, the sweet naturally-aspirated V10 engine will remain, but rumours of an entry-level option continue to circulate.
Elsewhere, Audi's sweeping model refresh kicked off last year with the new A8 and A7, but Audi isn't stopping there as a new generation A6 has recently been launched. As usual with new versions of Audi's core model-lines, we're more interested in the S and RS versions, although we might have to wait a little bit longer to see models under the RS nomenclature.
As for the S6 and S7, test mules have been caught undergoing their final shakedowns on the Nürburgring so expect them to not be too far behind the main model release. Audi's impressive new RS4 is also not far away from reaching customers, even if it has lost it's snarling naturally aspirated V8 engine. 
> Click here for more on the new Audi A7
Audi's Q2 compact crossover is due a sporty sibling in the form of an SQ2 to rival the MINI Countryman JCW and upcoming Abarth 500X. As the standard car is based on the same MQB platform as the Audi S3, it is speculated that the SQ2 will also share its 306bhp 2-litre turbocharged four-cylinder and Haldex based all-wheel drive system.
The SQ2 will sit comfortably alongside Audi's growing performance SUV range, with the usual 'S' model styling upgrades of quad exhausts, big wheels and silver mirror caps making an appearance. We expect the SQ2 to be available towards the end of the year with six-speed manual or S-Tronic dual clutch gearbox options.
BMW
BMW is set to have plenty of new models in store this year, one of which is the return of the 8-series, a long, low luxurious coupe set to battle the likes of the Mercedes S-class coupe and new Bentley Continental GT. An M8 will follow shortly after featuring the same drivetrain as the new BMW M5, complete with a twin-turbocharged V8 engine and all-wheel drive too.
BMW has also revealed a convertible version of the i8 called the Roadster, due to go on sale alongside an updated i8 Coupe. An all-new Z4 roadster is also imminent having been developed alongside one of 2018's most exciting new cars, the all-new Toyota Supra.
BMW's M2 will arrive in Competition Package specification, with the M3/M4's engine shoehorned into its bulging body, marking the end of production for this generation of BMW 2-series. The Bavarian manufacturer will round off the year launching an all-new (G20) 3-series – the (G80) M3 will follow in 2019.
Ferrari
The Portofino will pick up where the California T left off providing the entry point to Ferrari's range. It's both more powerful and (80kg) lighter than the California T, courtesy of an all-new chassis and upgraded version of the 3.9-litre turbocharged V8. However, during our recent drive of the new open-top GT, we were left wanting more. We hope it changes our mind when we drive it back in Britain.
More exciting though, is Ferrari's hardcore version of the 488 GTB and successor to the 458 Speciale called the 458 Pista. Sporting a stiffer and more track-focused chassis setup as well as a power bump to 710bhp, the Pista will certainly top its predecessors' performance, but it'll have to work very hard indeed to be as special as the Speciale. We're driving the Pista very soon, so you won't have to wait long for the answer.
Ford
How do you possibly replace one of the most universally liked modern hot hatches ever? Don't leave your customers waiting. It may have taken nearly six years to replace the first Fiesta ST, but Ford hasn't wasted any time adding an ST to the range for the latest generation Fiesta.
When we heard the new ST would use a downsized 1.5-litre three-cylinder engine to its predecessor's 1.6-litre four pot we certainly had our doubts, but on first acquaintance it appears Ford has once again hit the spot with its quickest supermini.
For us it isn't quite as fun to drive as its perfectly-judged forebear, but it remains a hoot to drive and the new triple is good fun to use too. With production of our current favourite hot supermini - Peugeot's 208 GTi by Peugeot Sport - coming to an end, the new ST looks like going unchallenged for junior hatch honours in 2018.
Hyundai
We've already driven the new i30 N on road and track, but a real test of whether this newcomer to the hot hatch game will really be able to compete against the established players in popularity is yet to come. The i30 N's development was masterminded by ex-BMW M engineer Albert Biermann, giving the i30 N significant weight behind its dynamic claims, thankfully that connection doesn't appear to have been lost on the road.
Early signs are good though - the i30 N recently beat the Peugeot 308 GTi and Volkswagen Golf GTI in our group test, and with an i30 N on our long-term fleet we've got plenty more time for the Hyundai to really get under our skin. With little hot hatch heritage to call upon, the N is a very good effort indeed.
evo comment
'It is that well sorted, that crisp and clear and precise in its responses, and in pretty much everything it does.'
Jaguar
Jaguar's XE has been crying out for a V8 engine since its launch back in 2013 and thankfully the wait is nearly over. Unfortunately, for the moment at least, it is only to take the form of the Project 8. Don't get us wrong, the notion of a 600bhp all-wheel drive XE with touring car-style bodywork and liberal use of carbonfibre is extremely tempting, but a rival for the BMW M3 and Mercedes-AMG C 63 S would be more relevant.
And yet it's hard to argue with the fun factor. We've just driven the Project 8 and it's about as serious as you'd expect given its limited production run and huge £149,995 price. You could even use it every day (if you're one of those lucky 300 buyers), though the Cup 2 tyres might be best suited to dry outings.
Lamborghini
Lamborghini's revised Aventador flagship is due to arrive some time this year in SV J form. Although Lamborghini has not confirmed the use of that terminology, prototype vehicles have been spotted wearing that branding inside and out. Expect a increase in power to a Ferrari 812-beating 800bhp, as well as the usual combination of outlandish styling updates, including some improved aero learnt from the Huracan Performante.
McLaren
McLaren's rapid growth towards being a true supercar powerhouse looks set to continue this year, with the marque due to reveal two limited build MSO hypercars as well as some new derivatives of existing models.
The first of these new MSO cars is called the Senna, McLaren's most track-focused road car ever. With completely bespoke bodywork and aerodynamics, the Senna has a peak power output of 789bhp from a pure IC powertrain sat in a featherweight 1198kg (dry) body.
> McLaren Senna review - First drive of track-focused hypercar
The second has yet to be revealed in full, but the three-seat hypercar, codenamed BP23 (we've pushed McLaren for the true name, but they're remaining quiet for now...) will likely exceed 1000bhp and push through the McLaren F1's record 243mph top speed figure.
McLaren Automotive also has plans to introduce a more focused version of the excellent 570S, possibly with the LT nomenclature attached, and a spider version of the 720S might also appear in 2018.
Mercedes-Benz
Mercedes-Benz has already revealed the sleek new CLS, but the big news is still to come, with a new hybridised '53' moniker AMG model combining the marque's impressive new straight-six engine with an electric motor. The hybrid powertrains won't end there though, with a production version of the four-door GT also due to feature Mercedes' EQ+ hybrid components, this time paired with the bi-turbo V8 engine.
> Mercedes-Benz CLS 400d review
Mercedes has also recently introduced the all-new A-class. Now in its fourth generation, this crucial new model is hoping to improve a few key areas while not messing with the current formula too much. We are also expecting a new saloon variant to be released rendering the contrived CLA redundant, as well as a new title fighter for the fastest hot hatch contender with a new AMG A45. Then there's a mid-life facelift for Mercedes-AMG's GT coupe and roadster: expect a little harder edge for both.
Renault
Our first impressions of the Mégane RS on the international launch were good but not completely conclusive. To see if advancements such as four-wheel steering and hydraulic bump stops comprehensively elevate the driving experience we'll need to test it on British roads – preferably in Cup guise, fitted with a six-speed manual – against the competition. Bring on the Honda Civic Type R.
evo comment
'Despite cast-iron body control and low-roll handling, the Renault rides with rare suppleness for a passively damped machine.'
Porsche
Porsche's all-new 911 will not be arriving till 2019, but to celebrate the end of the current '991' generation of Porsche's ubiquitous sports car, the latter half to 2018 will see some pretty enticing limited-run models from the German brand.
The first will be a re-imagination of the 911 Speedster, this time with some rather more serious underpinnings than the Carrera S-sourced drivetrain of previous Speedster models. So far only a 'Concept' has been revealled, but after seeing plenty of prototypes on the roads, we expect a production version to be revealed sooner rather than later, as the all-new 911 is due in 2019.
The same engine might also be seen in the 718 twins, as both the GT4 and Spyder should see their return in 718 Boxster and Cayman forms. The previous generation GT4 was a revelation, so what Porsche have in store for the next one should prove to be one of the highlights of 2018.
SEAT
Before Cupra  separated from SEAT they produced one last car together: the Leon Cupra R: harder, faster and pricier. Despite the £35k price tag and questionable bronze accenting, the halo Leon Cupra impressed and showed genuine and welcome improvements over the Cupra 300. However, few will reap the benefits with just 24 coming to the UK.  
Toyota
News of the new Supra has been slowly drip-fed into the public domain ever since Toyota confirmed its return. Still underneath its camouflage, the Supra was rolled out at this year's Goodwood Festival of Speed, flaunting its compact stance and production-ready bodywork.
> 2018 Toyota GR Supra Racing Concept revealed
Japanese magazine "Best Car" reports the production Supra will receive a straight-six that develops 335bhp and 332lb ft of torque, helping the Toyota flagship sprint from 0 to 62mph in 3.8 seconds. It shares its basic architecture with BMW's next Z4, but speaking to chief engineer Tetsuya Tada at Geneva, he confirmed that the two cars actually share relatively few common components, and that the two will be distinctly different to drive.
TVR
TVR will be returning to the sports car fold this year with an all-new Griffith. The compact, rear-drive coupe has been the centre of the brand's product development efforts since being taken over by Les Edgar in 2013. Under the new car's carbon composite bonnet sits a Cosworth fettled 5-litre V8 engine from Ford. 
Weighing in at a lithe 1250kg, the Griffith is bound to offer impressive performance for the money in usual TVR style, but we'll have to hold on until we have a go in 2018 to pass judgement on whether this is a real return to form for the TVR or another false start. 
Volkswagen
Touted as the spiritual successor to the Mk1 Golf GTI, the VW Up GTI has been one of the most hotly anticipated cars of 2018. Fortunately, its forebear's character is evident in the driving experience, but it's a bit more polished and grown up, like all modern VWs, forging some involvement as a result. We can't wait to see how it fares on the tough and testing British roads.
evo comment
'You soon realise the VW's secret speed weapon isn't its power, or lack of it, but the grippiness and unflappability of its chassis.'