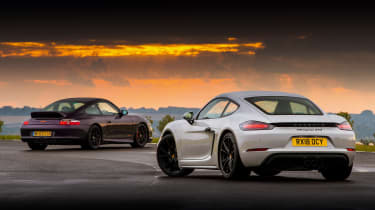 1/9
On face value, this comparison looks simple enough. You have around £75,000 to spend on a Porsche, reckon 350bhp or so is more than adequate, and want a car that is going to really enthral on both road and track. You want choices and here they are: you can either buy new, as in the case of a well-optioned 718 Cayman GTS, or buy something much more bespoke, older, and with an even more focused sporting persona, in this case a 996-generation 911 CSR Evo from Porsche specialist RPM Technik.
The Cayman is the easy option. In GTS guise it already comes with much of the kit that helps it meet our road and track brief, and its reputation for handling excellence precedes it. Sadly, its reputation for having a nasty four-cylinder turbo engine that sounds like an old tumble dryer running on an uneven floor is impossible to disassociate either, hanging around the 718 range like an awkward stigma. Seventy-five thousand pounds also initially sounds like a lot of money for a Cayman, until you realise that a 911 with a few reasonable options now easily exceeds £100,000.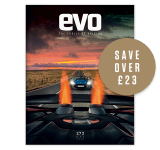 Subscribe to evo magazine
Subscribe today to have every issue of evo delivered straight to you. You'll SAVE 39% on the shop price, and get evo for its original cover price for a whole year!
> Porsche 718 Spyder review - the drop-top GT4 we've been waiting for
The same £75k also sounds like an eye-watering amount for a 996 Carrera, particularly when you consider it's well into 996 GT3 money. Both evo's Jethro Bovingdon and I run 996 Carreras as our own cars, but in spite of our partisan feelings even we'd raise an eyebrow at that sort of number. Yet RPM has sold over 30 of its CSR conversions to date, and this new Evo model promises to take the concept of a more focused driving experience and bespoke tailoring to a higher level.
To build an Evo you – or RPM – need to find a second-gen 996 Carrera; that's the one with the larger, 3.6-litre engine and the 'turbo-style' headlamps, built between 2001 and 2005. Despite a steady increase in values over recent years, it should be possible to find a tired one of these (and plenty are) privately for around £15k. It has to be a two-wheel-drive model, a coupe, and – it goes without saying – a manual-gearbox car. From there, it's a thorough strip down and attention to just about every area of the car, with the addition of various packs. You can pick and choose the items you want, or simply tick the box and have all the packs for £60,995, which includes VAT and fitting.
For starters, the Evo looks a lot more aggressive than a standard 996, with a style somewhere between the period GT3 and a retro nod to the original Carrera RS. The bonnet and ducktail engine cover are both made from carbonfibre, saving 16kg, and the additional venting in the nose helps to improve cooling on track. The 18-inch OZ wheels save a further 12kg (the Evo is around 45kg lighter overall, so potentially dipping below 1300kg, compared to the 1375kg Cayman), while inside there is lots of Alcantara, a Momo dished wheel, a taller gearlever, Recaro Pole Position seats and much more besides.
As for the running gear, there are KW Clubsport coilovers adjustable for bump, compression and ride height, plus adjustable anti-roll bars, adjustable main lower arms, new bushing including solid top mounts and engine mounts, and a much more focused geometry set-up. The brake calipers are overhauled, and floating front discs and harder-compound pads fitted, but it's towards the rear of the car that most of the work is done. The M96 engine sometimes gets a bad press for mechanical fragility, but the issues are known and RPM's Engine Protection and Power Pack (Stage 1) attempts to prevent any problems before they occur as well as raising power from 315 to 348bhp and torque from 273 to 295lb ft.
The 'Protection' part consists of a ceramic upgrade on the infamous IMS bearing, a low-temperature thermostat, a third radiator, waterless coolant and a 'deep sump extension' to improve oil pick-up under sustained hard cornering. The cylinder heads are then polished and ported, with high-lift camshafts fitted and the engine remapped. A higher-flow air filter is teamed with a Carrera Cup-style centre-exit exhaust system, which as I'm about to experience, also gives the Evo a strident voice. The final element concerns the fitment of a single-mass flywheel, a new clutch, a mechanical limited-slip differential that RPM sets up to your choice, and a short-shift kit that works with the taller lever.
Enough of the background info; time to fire up some engines. A cynic might say that's the last thing you'll want to do with a 718, but then at least that's the worst over with: accept the 360bhp four-cylinder motor for what it is, banish thoughts of the creamy old flat-six to the memory, and revel instead in the rest of the GTS, which on the road is almost all extraordinarily good.
Rarely does a car feel so emphatically right in virtually every scenario as the 718 manages to, and never more so than on a good British B-road, where the dexterity, subtlety and sheer competency of everything it does dynamically can be dumbfounding. There is never a situation that catches it out; never a moment when you don't feel you can do exactly what you want with it, on whichever specific patch of road. The way it steers, for an electrically assisted system too, is particularly impressive.
The Evo is, predictably, a completely different experience. I think it's fair to say that when you twist the key in the ignition, its engine simply erupts, a wall of thick, aggravated flat-six growl ricocheting off anything in the vicinity, rising and falling with a squirt of throttle, with almost no inertia. No 996 Carrera I've heard has sounded like this.
RPM has set the suspension up for track use on its demo car, and it's unapologetically firm for the road, albeit adjustable obviously. The KWs give a lovely sense of control at higher speeds, but on a really bumpy B-road the nose is like a hungry Labrador at a barbecue, darting left and right over cambers and undulations. Actually, its behaviour is often like a really old 911's, in that you have to learn when to let it have its head, and when to steer it back into line. That slippy diff is beautifully set up, too: in the GTS, oversteer is either unintentional or the result of serious and rather nervous provocation, but the Evo will begin to rotate under power almost everywhere – it's practically its natural cornering state. With the hiss and rip of the suspension working hard and the harness tethers clattering around like the sound of giant scissors snipping away, it's the kind of car that's fun – a proper event – even in the first ten minutes away from your driveway.
Our time on track at the Bedford Autodrome is blighted by dreadful weather, but it turns into a blessing because it highlights something I hadn't really expected. The Cayman is proficient, as ever, and driven in a neat and tidy fashion it splashes around effectively, with few surprises for the driver. But turn the stability system off and try to edge it nearer its limits and the picture changes markedly. This is down to a number of factors: the turbocharged delivery means it's very hard to summon the right amount of torque exactly when you need it. And however precise the steering, the messages coming back about a rapidly changing grip situation are fairly muted. The behaviour of the differential isn't terribly progressive either, the GTS nervously sitting in a grey window between wanting to snap quickly back into line and suddenly stepping out much further. It takes discipline and perseverance to keep the lap from being really scrappy, and it's not particularly fun.
Lapping the CSR is very different. I can't remember driving a car that makes it so easy to go sideways as the Evo does – there are no spikes in the transition from neutral to oversteer, and as long as you've kept some weight over the front on turn-in it's so friendly. Sure, that's not terribly relevant to a trackday, but it's possible to drive it near its limits without anything like the trepidation you feel in the GTS, enjoying the transparency of the hydraulically assisted steering from that Momo near your chest, the immediacy and punch of the flat-six, the feeling of being really connected with the machine.
The GTS is a brilliant car in search of an engine that does justice to the rest of the package. It hardly needs to be said that overall it's a pretty effortless everyday companion, and that's clearly not the case with the CSR Evo. Yet there's no getting away from the fact the older car offers far more of an interactive driving experience.
So why not just buy a GT3? Clearly that'll always be a significant temptation, and a thorn in the curvaceous rear flank of the 996 CSR Evo. However, the CSR holds particular appeal if you want to create something unique, if you want something essentially 'new', and if you don't want to worry over the investment angle when using it hard. It's lighter than a GT3, certainly quicker than a Gen 1 GT3, if without the top-end rush of that found in a Gen 2, but its fantastic pick-up in the mid-range makes it feel so useably rapid on the road. In the end, and money aside, driving the CSR Evo plastered a massive grin all over my face from the moment the wheels began to turn, which could be all the reason you'll ever need. 
RPM Technik 911 CSR Evo (996)
| | |
| --- | --- |
| Engine | Flat-six, 3596cc   |
| Power | 348bhp  |
| Torque | 295lb ft   |
| Weight | 1300kg    |
| Power-to-weight | 272bhp/ton   |
| 0-62mph | n/a   |
| Top speed | n/a   |
| Basic price | £60,995 (plus donor car) |
Porsche 718 Cayman GTS
| | |
| --- | --- |
| Engine | Flat-four, 2497cc, turbocharger   |
| Power | 360bhp @ 6500rpm   |
| Torque | 310lb ft @ 1900-5500rpm |
| Weight | 1375kg   |
| Power-to-weight | 266bhp/ton |
| 0-62mph | 4.6sec |
| Top speed | 180mph |
| Basic price | £60,557 |