What makes a British performance icon? Does it need to exhibit a pugnacious Churchillian visage or ride with the tranquillity of the village green cricket match? No, stereotypes won't cut it when looking at British icons in the same way that it would be a sweeping generalisation to say that Italian cars are pretty but rusty and all French motors have dodgy electrics.
British performance car brands come and go with many of the marques from years gone by no longer with us, but after having experienced the doldrums, the British performance car is on the up once again. Jaguar has rediscovered its mojo, McLaren has come an incredibly long way in a short space of time and Lotus is experiencing a bit of a renaissance.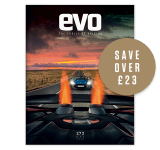 Subscribe to evo magazine
Subscribe today to have every issue of evo delivered straight to you. You'll SAVE 39% on the shop price, and get evo for its original cover price for a whole year!
But there isn't a rule book or a set of guidelines by which British manufacturers have to adhere and as our top five current British cars will demonstrate there's plenty of diversity and choice when it comes to choosing a British performance car icon. And to spice things up a little more, we've also chosen our top five machines from the evo era, past masters from the last 20 years that represent the pinnacle of the British automotive landscape.
Top five best British new cars
1. McLaren 600LT
In less than 10 years McLaren has come an awfully long way and the 600LT, the latest in its line of Sports Series machinery, is the distilled essence of just about everything it has learned during that time. And, let's face it, anything that spits fire from its rear deck-mounted twin-exit exhausts gets our vote.
The raw ingredients are everything you'd expect, a carbon tub, a mid-mounted 3.8-litre twin-turbocharged V8 developing 592bhp and a serious weight loss program all add up to a stunning drive. It'll accelerate from 0-62mph in 2.9sec and from 0-124mph in just 8.2sec with a top speed of 204mph.
There have been detail improvements over the 570S in every area. It's 84kg lighter, has a four per cent quicker steering rack and features new forged alloy wishbones, hollow anti-roll bars, recalibrated dampers and carbon-ceramic brakes. It doesn't offer the usability of the 570S but has been honed for ultimate performance with every hint of vagueness or imprecision having been dialled out of the car.
There's a precision to the controls, an immediacy to the brakes and an aura of polish that pervades every aspect of the 600LT – it's right up there with the best of the best. And while it's a trifle bizarre to refer to something that costs £185k as a bargain, when viewed at in terms of its peers it offers more than a Ferrari 488 Pista or a Lamborghini Huracan Performante for less outlay.
2. McLaren Senna
Beaten to the top spot by its less extreme, cheaper and more rounded sibling there's still something so outrageously marvellous about the McLaren Senna that it had to feature highly in our best of British. It sets new standards for both its level of performance and the intensity of the driving experience and more than lives up to the pre-launch hype that surrounded the Senna's debut.
The performance McLaren has extracted from the 4-litre twin-turbocharged V8 is simply sensational. The engine itself is a heavily revised version of that found in the 720S and develops 789bhp and 590lb ft of torque to give a power-to-weight ratio of 659bhp per ton – no wonder it's devastatingly rapid. 0-62mph flicks by in a scant 2.8sec, 0-124mph is dispatched in 6.8sec and its top speed is a largely academic 211mph.
But it's the way the Senna devours corners and seemingly stops on the proverbial sixpence that really influences one's feeling towards the car. The steering is beautifully weighted and so, so precise, allowing you to position it exactly where you want it while the combination of the RaceActive Chassis Control 2 system, the bespoke Pirelli Trofeo R tyres and the mind-boggling aerodynamic package (800kg of downforce at 155mph) make the Senna a scintillating drive.
Downsides? The Senna's design might not appeal to everyone – but it's all there for aerodynamic purposes – and while a £750k price tag (they're all sold out long ago) might seem excessive it really is the ultimate track weapon that can still be driven on the road.
3. Jaguar XE Project 8
In its standard form the Jaguar XE wouldn't be getting close to our top five British cars – it's not a bad car, but it's certainly not an outstanding one – the arrival of the Project 8 version, however, has changed all that. The Jaguar SVO skunkworks machine is a genuinely serious performance saloon and, bar its price, the only real downsides are that only 300 have been made and that its technology doesn't look likely to filter down to the rest of the XE range.
Project 8 is a machine that wears its heart on its sleeve – there's no chance you could call the huge front and rear spoilers or the blistered arches subtle – but they're there for a purpose. And that's to make the XE seriously fast. Panels are almost exclusively made from carbonfibre or aluminium, the track's wider and those 20-inch rims are wrapped in Cup 2s and hide 400mm front discs.
Performance is courtesy of a 592bhp V8 which brings up the benchmark sprint in a blink-and-you'll-miss-it 3.3sec – impressive for a 1.8-ton machine. But it's not the Project 8's straight line speed that's its most impressive party trick as on the road it's rapid, responsive and remarkably refined. It feels light on its toes and the extremely precise steering allows you to perfectly position the big Jag.
It's balanced, has colossal grip thanks to its four-wheel drive and Cup 2 rubber (although it can be a little skittish in the wet) and the brakes wash off speed without complaint. It's an amazingly rounded machine and if you forgo the Track Pack that ditches the rear seats in favour of a roll cage you could almost call it practical family transport.
4. Caterham Seven
There's no doubt the word 'icon' is criminally overused in relation to performance cars but if there's one machine that truly deserves the epithet it's the Caterham Seven. It can trace its roots directly (and let's face it, very recognisably) back to Colin Chapman's 1957 Lotus original and perhaps more than any other car on sale, it represents the pure undiluted evo ethos of the thrill of driving.
There's a Seven to suit the vast majority of pockets from the £18k build it yourself 160 all the way up to the ballistically bonkers 620R, but you don't have to spend a king's ransom to experience what a Seven is all about. All of them are quick – thanks to their featherweight statuses – and even the slowest Seven will accelerate to 62mph in under seven seconds.
Opt for the 620R with the sequential box and it's under three seconds. While performance is impressive – and you always feel like you're travelling faster than you are in a Seven – it's the Caterham's handling that really separates it from more mundane machinery. Thanks to its light and stiff spaceframe chassis, low centre of gravity and telepathic unassisted steering it offers the same levels of feedback you'd expect from a single-seat racer.
You also feel what the car's doing through the seat as much as anything else – if there's a more communicative chassis on sale today we've yet to sample it. Yes, it's a bit impractical and you're sitting lower than most HGV's wheel nuts but for the ultimate drive a Caterham really can't be beaten.
5. Lotus Elise
It doesn't seem possible that the Lotus Elise has been with us in one guise or another for 22 years now but the mid-engined roadster concept is as relevant today as it was when the original was launched in 1996. It's still one of the best driving experiences on offer today with an involving chassis that really allows you to put its relatively modest power output to good use.
It's the Elise Sport 220 that's the sweet spot in the range and while its supercharged Toyota 1.8-litre four-cylinder might look a little underpowered with just 217bhp, it only weighs a smidgen over 900kg so that's plenty to play with. It's quick – 0-62mph takes just 4.2sec – and while the short gearing doesn't give a particularly high top speed we can't remember anyone complaining the Elise wasn't fast enough.
Like just about every Lotus it's the Elise's innate chassis design that allows it to shine and the extruded and bonded aluminium underpinnings communicates everything the car is doing in intimate detail. On top of this it grips tenaciously and steers with an unassisted precision that most rival manufacturers can only dream of achieving. The icing on the cake is a ride that's wonderfully complaint and a perfectly modulated brake set up.
If you're keen on your creature comforts the Elise might not be for you as the cockpit is on the minimal side although the seats are comfortable and supportive. You'll find items such as air conditioning, a stereo and cruise control are on the options list, but to load the Elise up with goodies is to miss the point – love it for the way it drives and you won't be disappointed.
Top five best classic cars from the evo era
So those were our modern day, British car favourites. Below are the best British cars from the evo era according to our team.
1. Lotus Elise Mk1
In much the same way as the McLaren F1 was designed with a painstaking approach to saving weight wherever possible the original Lotus Elise adhered to the Chapman philosophy to 'simplify, then add lightness'. Not that there was anything particularly simple about the Elise's structure, using extruded aluminium sections that were bonded together.
This unusual technique ensured a light but stiff structure, with the fully-built car weighing just 731kg which made the 118bhp Rover K-series engine more than capable of a 0-62mph time in the low sixes.
But it wasn't the car's performance that was its defining factor, it was its combination of light, direct and incisive steering, and a chassis that offered exceptional control yet a flowing and pliant ride. You could argue it's a balance that's yet to be bettered.
With the K-series' sweet power delivery and a slick gearbox combined with that chassis, it was a sublime way to effortlessly cover ground fast, offering a deftness and a lightness that was unrivalled at the time.
2. McLaren F1
It might be 26 years since the McLaren F1 was first presented at the Sporting Club Monaco during the Monaco Grand Prix but it still remains an astonishing achievement and one that can still hold its head high, even among today's crop of bonkers hypercars. More recent machinery might ultimately be faster and more accelerative but few can match the purity of purpose of the Gordon Murray-designed original.
His design brief was exacting with a scrupulous approach to weight saving and it was this, in part, that led to it having remarkably few driver assistance systems – there's no power steering or even traction control – and for this reason it could be regarded as the last of the analogue supercars.
The F1's BMW engine – many assumed Honda would be a shoe-in thanks to the F1 tie up – was a masterpiece designed by Paul Rosche and his 6064cc V12 with quad cams developed 618bhp and 480lb ft of torque. Murray had exacting requirements and while Rosche's engine was 16kg heavier than Murray wanted, it was also 14 per cent more powerful.
The F1 was fast – it held the road car world record for a time at 240.1mph – but it was also supple and wieldy too. It might have been a little tricky on the limit but it was still a wonderful thing to drive and prompted our very own Dickie Meaden to declare that the F1 was; "a freakish work of true genius and an impossible act to surpass."
3. TVR Sagaris
TVR, it would seem, has come and gone at the same speed as most people generally change their underwear but over the years it's managed to produce some glorious machinery – never the most polished or perfectly resolved but glorious none-the-less. And the pinnacle of the breed has to be the Sagaris.
It was the last TVR to be produced and benefitted from a number of detail changes that made it less quirky to live with and more functional, but it probably still wasn't enough to tempt buyers out their BMWs and Porsches.
It had much going for it though – a low kerb weight of under 1100kg and a sublime straight-six that doled out over 400bhp endowed the Sagaris with a claimed 3.7sec 0-62mph time and a top speed of 185mph. Thoroughly modern performance but achieved without modern niceties such as airbags, traction control or even ABS.
It could be a handful on the road with a harsh ride and a tendency to tramline and it didn't respond well to being taken by the scruff of the neck, but if you were more measured with your inputs you could enjoy a whole lot more that it had to offer – precise and instant turn-in, a balanced chassis and phenomenal pace.
4. Lotus Esprit Sport 350
You've got to give Lotus credit for persevering with the Esprit. Initially launched in 1976 and powered by a four-cylinder engine it came and went in various different incarnations until the 300bhp twin-turbocharged four-pot was replaced by a 3.5-litre V8 (again with twin turbos) to endow the car with the sort of grunt that its very capable chassis was patently capable of handling.
Our pick is the limited run Sport 350 from 1999. With 349bhp and a rigorous diet plan that shaved 80kg from the standard 350 model it was an absolute riot, capable of posting a 4.2sec 0-62mph time on its way to a 175mph top speed.
> Lotus Esprit S1 vs Essex Turbo vs Sport 300 vs S4S vs GT3 vs Sport 350
It looked sensational but few were likely to see one as just 48 were manufactured. The Sport 350 was Lotus's answer to machinery such as the Porsche 996 GT3 and while ultimately not quite as resolved as Stuttgart's offering it was an entertaining drive, but perhaps a little too edgy for some. It's less controlled than the lower powered cars and has a less cohesive side to its handling.
It can be a little intimidating with a throttle that's quite abrupt and this makes it difficult to build up a decent flow when stringing together a sequence of corners. Thrilling? Certainly, but ultimately not as polished as Esprits that went before it.
5. Aston Martin Vanquish S
As a last hurrah for the normally aspirated Aston Martin V12 the Vanquish S was a suitably epic creation. It cost nigh-on £50k more than the DB11 with its new turbocharged Mercedes-AMG-sourced engines but a comprehensive refresh of the Vanquish ensured the S was a very different beast.
Power was upped to 595bhp – good enough for a 3.5sec 0-62mph time – and throttle response was improved while the eight-speed auto's responses were sharpened. There were detail changes over the 'regular' Vanquish encompassing aerodynamics, springs and dampers, anti-roll bars and software that led to a gloriously cohesive machine.
> Aston Martin Vanquish S review
The sublime V12 dominated the proceedings, sounding suitably violent and uncompromising and it could deliver shatteringly high performance. It wasn't a let-down in the twisty bits either with the revised chassis offering huge grip levels, precise and well-weighted steering and exemplary body control.
It's ride was comfortable rather than cossetting but it was still the consummate GT, offering a great blend of ground-covering ability with monumental straight-line performance and a chassis to reward the keen driver along the way. The pinnacle of the normally aspirated V12 Aston breed.