A lot of our time is spent writing about the way in which cars accelerate, how quickly they reach their top speeds, and how they take to corners. Though this is all well and good, it's almost entirely meaningless when attempting to directly compare cars, and so we've throw the very best machines at the track, aiming to get a fast lap time we can use as a comparison.
Of course, track testing isn't perfect - variations in temperature, humidity, or even how much coffee the driver's had, all play a role in determining how fast a car laps the Anglesey circuit. However, it's the best comparison we currently have and the evo Leaderboard is the place to compare those lap times side-by-side.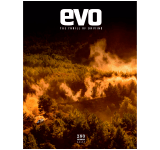 Subscribe to evo magazine
Subscribe today to have every issue of evo delivered straight to you. You'll SAVE 39% on the shop price, and get evo for its original cover price for a whole year!
> evo Track Days 2020: dates, tickets, booking info
Our evo Leaderboard list of lap times from the Anglesey circuit is below. We've also used Bedford Autodrome and Blyton Park for a handful of lap times, which are also included. 
evo Leaderboard - Anglesey Coastal Circuit
Anglesey, UK. GPS: 53.188372, -4.496385. Length: 1.55 miles
As you'll notice, top spot on our leaderboard is occupied by a British-built favourite, the BAC Mono. Several perennial evo favourites make an appearance too, with the McLaren P1 taking top spot as the fastest supercar and the SEAT Leon Cupra flying the flag for the hot hatchback. Click on the links to find out more about the cars and watch the videos of our fast laps here...
Why choose the Anglesey circuit?
Noise restrictions, cost and availability are the prosaic considerations; circuit design and lap length the critical attributes that need to suit the very particular demands of testing and filming.
Though we also use both Bedford Autodrome and Blyton Park for certain lap timing comparisons, Anglesey's Coastal Circuit on the North Wales coast is the perfect home for our Leaderboard series, thanks to its ideal combination of compact 1.55-mile lap length, challenging layout and utterly breathtaking backdrop. That it's just a stone's throw from some of the UK's best driving roads is a welcome bonus.
The lap itself is a challenge for both car and driver. Not so much that it pushes the machinery beyond what's reasonable or rewards excessive risk-taking from the driver, but enough to test the limits of grip and braking, punish poor traction and allow power and torque to make a difference, but not dominate.
At Anglesey as on the road, confidence and consistency are key, thanks to a satisfying blend of corners with fast turn-in points that place an emphasis on balance and feel, together with slow, technical elements requiring precision. Linked by a long enough straight (albeit a curved one!) that allows the quickest cars to breach 150mph, the Coastal Circuit is just about perfect for our needs.
Which bits present the biggest challenges? Well, much like any other circuit the quick stuff gets your attention, but it's the slower sections where you can make or lose the most time.
About the track
The lap starts with Target, a tricky medium quick left-hander usually taken in 3rd gear. You want a settled, neutral balance here that allows you to carry some speed as you turn-in, then get back on the power as soon as you can and let the car run to the generous exit kerbing.
You then need to coax the car back to the left-hand side of the track for before the big braking zone into The Hairpin, which is slightly banked to help fire you out onto the short straight like a roulette ball. Depending on the car you'll be up into the top-end of fourth gear before Church. If it's a quick car you'll need to brake and possibly shift down a gear before carrying as much speed as you dare on turn-in. Too much and you'll waste time trying to balance the car, but too little and you'll know it immediately. Either way you'll be cursing all the way to the School kink, which is one of those just flat corners, even in something as quick as a GT3. 140+mph never feels quicker than here...  
That's why the rush up the hill after School is the most unforgiving of mistakes, as the braking area switches from a helpful uphill gradient to a tricky plateau just when you need to gather things up for the tight left-hander at Rocket In. And all the while you're busily downshifting and trying to keep the car as far to the right as possible.
The transition into the right-hand hairpin at Rocket Out requires patience and discipline in order to get a clean exit for the short climb to Peel. Harder than it looks thanks to an inviting entry and a slightly tighter apex-to-exit placed on a crest that falls away as you chase the throttle, this is where we got those smokey slow-mo shots.
The downhill braking area into to the Corkscrew complex tends to tie every car in a knot, as you're simultaneously braking and turning slightly left. It's the one place you'll feel the ABS kick-in, or lock an inside front wheel in something like a BAC Mono. If you can hit the left-hand kerb then the sharp right element is pretty straightforward. Just stay off those jagged saw-tooth kerbs!
The final turn onto the Pit Straight is frustrating for it always tempts you to carry slightly too much speed in, which compromises your exit speed for the dash to the line. Hold your nerve and don't turn-in too early and all that's left is to run two wheels over the smooth exit kerbing to complete the lap.
Below are our lap times for both Blyton Park and Bedford Autodrome. 
Bedford Autodrome West Circuit
Bedfordshire, UK. GPS: 52.235133, -0.474321. Length: 1.8 miles
Note: Track reconfigured in May 2015. All shown times are on the current layout. Earlier times are not comparable.
Blyton Park Outer Circuit
Lincolnshire, UK. GPS: 53.460093, -0.688666. Length: 1.6 miles